Podcast: Play in new window | Download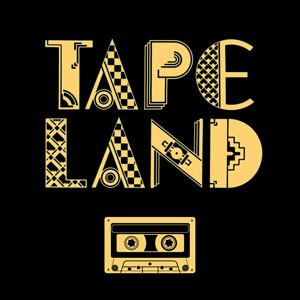 1:24:04 – Welcome to Tape Land! On each episode, I'll present the audio of a cassette tape or historic material from my personal archives.
This is a tape from the late 1980s with a lot of material collected on it. It seems to have been started around 1987, with more material added in 1989. As written on the insert:
Side A:
"Kreation-2IL4D"
Soh Daiko – Part II
Raw LFN Material
The First Tape – Side 1
Hot Escort/Echodj
Govar Material (4)
NUKE
Motion Exerp
Side B:
Religious Prank Calls
Soh DaikoPart 1
(Side A #4 – 8 added 3/31/89)
Notes: (A1) – This is a bass solo performed by my friend Chris circa 1987. The "2IL4D" is supposed to be the name "Chris" upside-down. A longer version was released as part of my Little Frankie Nora album "Original Tin" in 1987 (available in the archive). (A2) – Recording of Japanese drum group Soh Daiko at Drew University circa 1987. At the end you can hear people leaving and me talking to someone. (A3) – I had borrowed an effects pedal from Chris and used it to record these work-in-progress Little Frankie Nora segments. (A4) – Side 1 of the first tape I recorded on my new tape recorder, at my 10th birthday party, on 10/2/77 (available in the archive as "Birthday 1977 (Full Version)"). (A5) – Excerpt of the song "Hot Escort" from a 1979 Sanyo Demonstration Tape – the tape reverses somehow causing a weird sound. Then, a section of me recording a mix tape, introducing the songs with an echo effect, recorded at the Drew University radio studios circa 1987. At the end, is a reverse sample from the the Weird Al Song "Nature Trail To Hell". (A6) – I don't recall the meaning of the term "Govar Material" (it may have had something to do with my theory that there were messages about interdimensional travel hidden in pop music) – but it's the songs "Secret Oktober" by Duran Duran and "Leipzig" and "Urges" by Thomas Dolby (removed from this release, as they are commercial releases). (A7) Soundtrack to a Super 8mm movie I made called "The Nuclear Movie", as a school project about nuclear war. (A6) – short excerpt of a song (called "Motion"? Shazam couldn't identify it.) (B1) – using a primitive suction cup phone tap from Radio Shack, my brother and I prank call a religious hotline. First my brother pretends to be a Satan-worshipping hoodlum. Then I pretend to be a nervous drug addict. (B2) – The first part of the Soh Daiko recording, with my introduction. Then, after that, some more of "Kreation-2IL4D".
Released 2/20/21
License for this track: Creative Commons Attribution-NonCommercial-NoDerivs 3.0 Unported License (creativecommons.org/licenses/by-nc-nd/3.0/). Attribution: by Frank Edward Nora – more info at onsug.com