Podcast: Play in new window | Download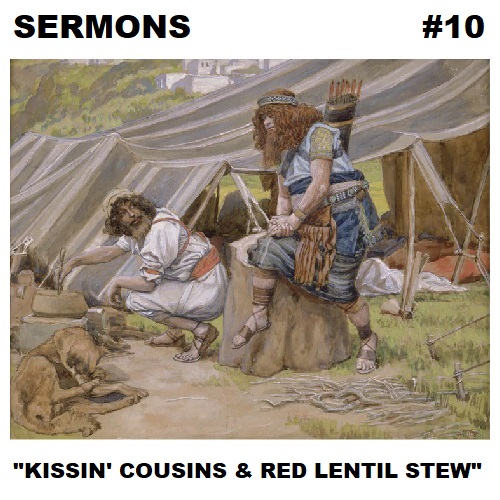 30:12 – Isaac's first cousin Rebekah is selected by the Yahweh Elohim to be his bride, in defiance of the dangers of inbreeding. After a childless decade or two, a Yahwelian fertility procedure results in fraternal twins, the hairy Esau and the slick (perhaps too slick) Jacob, who eventually cheats his slightly older brother out of his birthright. This leads to a discussion of what our birthright is, and who is trying to cheat us out of it. Dave flips to the back of the book for the answers (in Revelation 13) and presents his own ideas about the mark of the beast, the name of the beast, and the number of its name, as well as about the infamous number 666, which (we are told) is the number of a man.
Show art: The Mess of Pottage (1896-1902) by James Tissot (1836-1902), Public Domain.
This show is licensed under a Creative Commons Attribution-NonCommercial-NoDerivs 3.0 Unported License. Attribution: by Dave in Kentucky – more info at onsug.com and sermons.blog.
This episode, along with all other episodes of SERMONS, is also available at sermons.blog.