Podcast: Play in new window | Download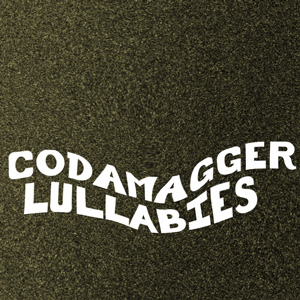 47:40 – Welcome to Tape Land! On each episode, I'll present the audio of a cassette tape or historic material from my personal archives.
In 2011, PQ and I tried to set up a streaming station that was legally licensed to play commercial music. Tentatively called "Onsug Music Clubhouse", the project never got off the ground due to the cost and complexity of setting it up. I only recorded this one test broadcast for the project.
"Codamagger" was an super-masculine fake brand I invented, mentioned on The Rampler #363 (8/24/09), along with art for the logo: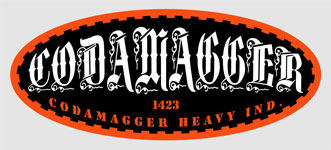 "Codamagger Lullabies" was originally a song in one of my music projects, Choston Bands & Junkard Sane – Oval Bay (EP). The idea was that a "Codamagger" was a pistol, and being pistol-whipped and knocked out by it was a "Codamagger Lullaby", in the slang of some fictional alternate world.
I played the DJ clips from this on The Overnightscape 797: Orange Egg Lotion (7/10/11), but for this release I kept a few seconds from the beginnings and endings of the songs, to give a better idea of what the original sounded like.
Notes (songs edited out): We Love Dancing by Arling & Cameronn Your Name Is Snake Anthony by Medeski, Martin & Wood, Can You Dig It (Alternate Version) by The Monkees, Church Of The Poison Mind by Culture Club, Blues Beach by Steely Dan, Resurrection by The Demons Of Negativity, DJ 1, Galvanize (feat Q-Tip) by The Chemical Brothers, Makin' Memories from Journey Into Imagination, Bottled Up by Devo, Stalag 123 by Big Audio Dynamite, Lucifer Sam by Pink Floyd, I Want To Be A Hulkamaniac by Hulk Hogan & The Wrestling Boot Band, DJ 2, Front Row by Alanis Morissette, '84 Pontiac Dream by Boards Of Canada, Chant Of The Wanderer by The Sons Of The Pioneers, Satanic Rites of Drugula by Electric Wizard, The Bell (Edit) by Mike Oldfield, What Are Those Things (With Big Black Wings) by Roger Miller, DJ 3, Smoke Rings by Laurie Anderson, Star Shpongled Banner by Shpongle, Black Dog (Live) by Led Zeppelin, The Modern Age by The Strokes, Song From The Wood by Jethro Tull, Come and Play in the Milky Night by Stereolab, DJ 4, John Cleese: Is He Funny? by Human League, Caught A Lite Sneeze by Tori Amos, The Analog Kid by Rush, Look Out, There's A Monster Coming by Bonzo Dog Doo-Dah Band, Los Angeles by Frank Black, The Juggler's Song by Incredible String Band, DJ 5.
Released 3/12/22
License for this track: Creative Commons Attribution-NonCommercial-NoDerivs 3.0 Unported License (creativecommons.org/licenses/by-nc-nd/3.0/). Attribution: by Frank Edward Nora- more info at onsug.com