Podcast: Play in new window | Download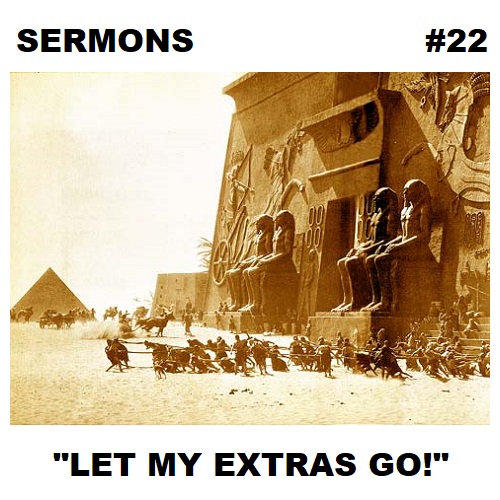 29:59 – The hologram in the "burning bush" gives Moses a mission, should he choose to accept it: to go to Pharaoh and demand the release of the Hebrew slaves so they can serve the Yahwelians instead. Moses is provided with the gadgetry and passwords necessary to complete the assignment, and is teamed up with his slick-talking brother Aaron, who serves as his mouthpiece. Once the hologram self-destructs, Moses applies for and is granted leave by his employer and father-in-law, His Excellency the Priest of Midian. Moses packs up the family, loads them on the family ass and heads back to Egypt, but along the way a near-fatal encounter with a Yahwelian results in spousal conflict and genital mutilation. Then when Moses and Aaron present their demands at Pharaoh's court, Pharaoh not only refuses to release the Hebrew slaves, he increases their workload out of spite. Oy vey!
Show Art: a still from Cecil B. DeMille's 1923 version of The Ten Commandments, from a scene filmed in the Guadalupe Dunes of Santa Barbara County, Public Domain.
This show is licensed under a Creative Commons Attribution-NonCommercial-NoDerivs 3.0 Unported License. Attribution: by Dave in Kentucky – more info at onsug.com and sermons.blog.
This episode, along with all other episodes of SERMONS, is also available at sermons.blog.