Podcast: Play in new window | Download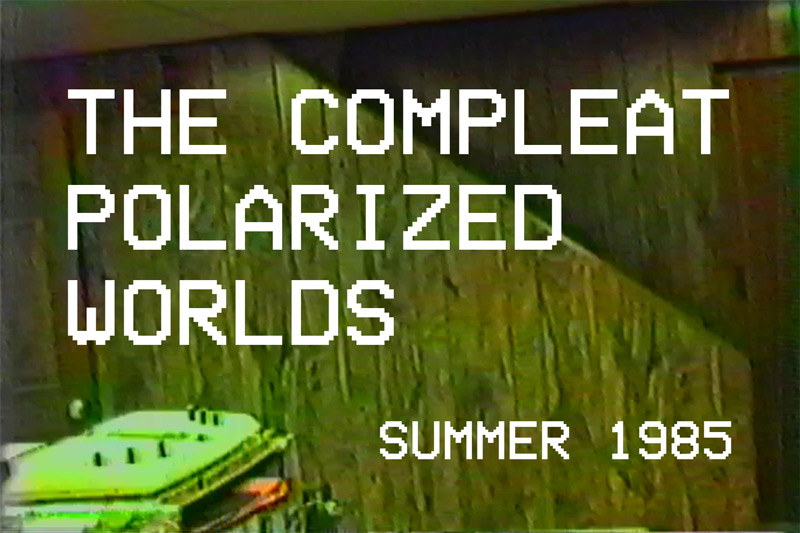 7:53:48 – Welcome to Tape Land! On each episode, I'll present the audio of a cassette tape or historic material from my personal archives.
This episode is part of a sub-project within Tape Land called "Video Phase 2022". I recently began transferring a ton of old video tapes to digital, and have been posting selections to YouTube. Here, I'll be releasing the audio tracks of these videos, as well as linking you to the YouTube videos, and The Internet Archive.
The Compleat Polarized Worlds (Summer 1985)
"Polarized Worlds" is a Doctor Who fan film made by a group of teens in Bridgewater Township, NJ, in the summer of 1985. Thought lost, director Frank Edward Nora found a Beta copy of the original over 36 years later, and released it online in December 2021.
"The Compleat Polarized Worlds", at nearly eight hours long, is the entire contents of the two VHS tapes they used to film the movie. It includes numerous takes and bloopers of all the scenes, the cast and crew goofing around, "behind the scenes" interviews, a number of conceptual videos inspired by art films, and other miscellaneous stuff. It's a fascinating real look into the world of Generation X teenagers in the mid-1980s.
The audio of most of this was released as "Video Kids 85" on The Onsug between 2007 and 2009. But this is the first time the video version has been released.
Released 10/23/22
License for this track: Creative Commons Attribution-NonCommercial-NoDerivs 3.0 Unported License (creativecommons.org/licenses/by-nc-nd/3.0/). Attribution: by Frank Edward Nora – more info at onsug.com
Internet archive link: https://archive.org/details/Tape_Land_Video_164-The_Compleat_Polarized_Worlds-Summer_1985
Contents:
[0:00:00] John as Cyril in basement
[0:00:23] Testing the camera in Frank's father's office
[0:00:54] Figuring out the camera in the basement
[0:03:17] Getting ready for filming, back porch and back yard
[0:27:42] Making of Doctor Who, rehearsing, back yard
[0:43:02] Hanging out in the basement
[0:58:35] Conceptual Video: The Chair, basement
[1:05:17] Conceptual Video: Rat Music, basement
[1:13:23] Charles talking about Nova Scotia
[1:14:09] Scene 7 filming, Jim's back yard
[1:16:34] Scene 9 filming, Jim's back yard
[1:25:05] Scene 10 filming, basement
[1:36:04] Frank's grandmother Evelyn, TV room
[1:36:49] Audio overdub test, basement
[1:37:24] Comic books, basement
[1:39:04] Conceptual Video: New Wave Corner, basement
[1:45:58] John and Chris, basement
[1:52:36] Doctor Who TV broadcast
[1:55:52] Conceptual Video: Cat Hyme, basement
[2:01:01] Conceptual Video: Chris Live, basement
[2:09:22] Conceptual Video: New Wave Corner 2, basement
[2:14:36] Conceptual Video: Name That Definition, basement
[2:21:55] Alpha Flight comic books
[2:24:33] Scene with Frank as The Black Guardian
[2:25:47] Intermission
[2:27:11] Ginger the Cat, back porch
[2:30:33] Credits Sequence work
[2:33:52] Ginger the Cat 2, basement
[2:35:14] Doctor Who TV broadcast (no sound)
[2:36:59] Title Sequence work
[2:41:21] Chris overdub
[2:44:25] TARDIS arrival scene, back yard
[2:48:11] Waiting for people to arrive, back porch
[3:01:53] Scene 1 filming
[3:09:17] After filming, back porch
[3:12:06] Preparing for filming, back porch
[3:20:40] TARDIS scene filming, back yard
[3:27:20] Morglif scene filming (Scene 10), basement
[3:38:27] Doctor and Terry scene filming, basment
[3:44:05] Scene 12 filming, basement
[3:52:44] Chair, basement
[3:53:00] Scene 12 filming continues, basement
[3:55:41] Discussing the script, basement
[3:56:30] Before filming, back porch
[3:57:09] Tumella scene filming, back yard
[3:58:37] Terry shot scene filming, back yard
[4:02:13] Morglif scene filming, basement
[4:07:14] Random ape scene
[4:07:56] Szalzo scene filming, basement
[4:17:34] Scene 5 filming, basement
[4:18:36] Conceptual Video preparation, John and Chris, basement
[4:25:05] Conceptual Video: Led Zeppelin, basement
[4:31:51] Tarzan?
[4:34:05] The Nuclear Movie
[4:43:29] Black Guardian scene, basement
[4:48:40] Scene 16 filming, basement
[4:54:07] Preparing to film, Lynn's back yard
[4:57:17] Polarized World scene filming, Lynn's back yard
[5:00:47] Scene 16 filming, Lynn's back yard
[5:28:48] TARDIS scenes, Jim's back yard
[5:33:28] Interview with Lynn, Jim's back yard
[5:34:46] Aquila & Tumella scene filming, Jim's back yard
[5:38:53] Cyril shooting Terry scene filming, Jim's back yard
[5:45:15] Ginger the Cat, back yard
[5:46:11] Fun before filming, back yard
[5:50:54] Scene 2 filming, back yard
[6:01:03] White Guardian scene filming, Jim's back yard
[6:13:32] Chris overdubbing a sitcom
[6:15:50] John and Chris overdubbing TV shows
[6:18:28] Tumella scene filming, back yard
[6:38:09] Jim's Introduction, basement
[6:39:22] Morglif and Black Guardian scene filming, basement
[6:40:44] Portal scenes filming, basement
[6:47:12] Doctor and Morglif scene filming, basement
[6:58:08] Cyril and Morglif scene, basement
[7:00:22] Alternate Reality filming, back yard
[7:13:12] ARGH – a whole day of filming lost, basement
[7:15:53] Ending scene filming, basement
[7:25:09] Terry Regeneration scene filming, back yard
[7:26:42] Chair & Robe scene, back yard
[7:30:15] Ending scene filming continued, basement
[7:37:21] Open Credits filming, back yard
[7:38:28] Correcting a negative scene that was filmed in positive
[7:39:17] Credits effects work
[7:44:01] Opening Titles
[7:45:23] Doctor Who TV footage
[7:50:59] Glynnora Productions Presents
[7:53:11] Doctor Who