Podcast: Play in new window | Download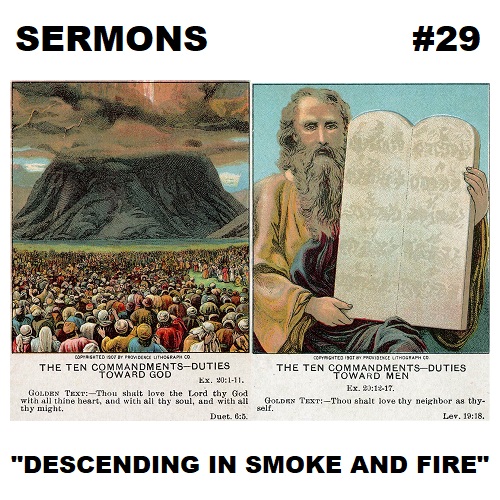 30:01 – At the behest of the Yahweh Elohim, Moses sets up a security perimeter behind which the Israelites can safely view the spectacle of a Yahwelian ship descending in smoke and fire, and landing on a plateau atop Mt. Sinai. When the Yahweh have second thoughts about allowing the humans to breach that perimeter and mingle with the gods, Moses goes back down to ensure order while the speaker system of the gods blares out a Top Ten list of commandments. Dave in Kentucky provides the linguistic analysis.
Show art: "The Ten Commandments" Bible Cards (1907) by the Providence Lithograph Company, Public Domain.
This show is licensed under a Creative Commons Attribution-NonCommercial-NoDerivs 3.0 Unported License. Attribution: by Dave in Kentucky – more info at onsug.com and sermons.blog.
This episode, along with all other episodes of SERMONS, is also available at sermons.blog.