Podcast: Play in new window | Download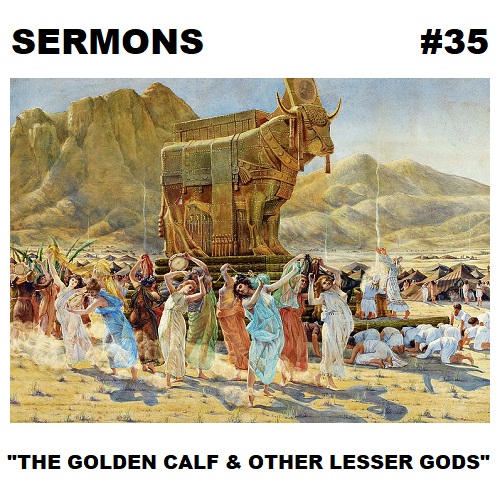 30:11 – Yahweh recommends a contractor and a sub-contractor to build the tabernacle and its furniture, prescribes drastic punishment for anyone working on the Sabbath, and gives Moses two stone tables with something inscribed on them, though not necessarily the Ten Commandments. When Moses descends the mountain, he finds that leaving his brother Aaron in charge was a big mistake, so he turns big rocks into smaller rocks and proceeds to commit atrocities on a Biblical scale. What god did the golden calf represent, and why was dancing naked around it considered an appropriate form of worship? Dave in Kentucky thinks he has the answers.
Show art: The Israelites Dancing Around the Golden Calf (1899) by Henri-Paul Motte (1846-1922), Public Domain.
This show is licensed under a Creative Commons Attribution-NonCommercial-NoDerivs 3.0 Unported License. Attribution: by Dave in Kentucky – more info at onsug.com and sermons.blog.
This episode, along with all other episodes of SERMONS, is also available at sermons.blog.