Podcast: Play in new window | Download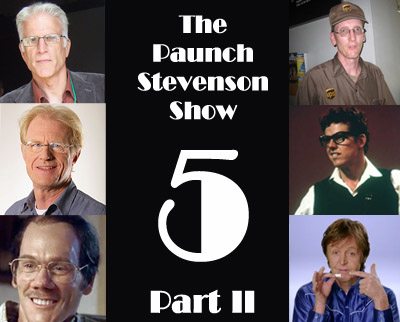 1:25:53 – Catching up with the Paunch Stevenson show backlog, (hopefully, by next weekend, ONSUG will be up-to-date!!)  Celebrating 5 Years of the Paunch Stevenson Show (Part II)!  In this episode: UPS delivering to the wrong state and a nutty guy in Texas (from episode 99), dueling Dr. Phil's sing "Day-O (The Banana Boat Song)" (from episode 100), a physics experiment with the fake Julius Sumner Miller: pressure (from episode 100), our interview with Ted Danson (from episode 101), our behind the scenes video of Rob interviewing Danson, our interview with Ed Begley Jr. (from episode 101), Paunch fan Esteban listening on four continents (from episode 108), listening to every episode in reverse (from episode 110), good celebrity encounter: Lewis Black (from episode 112), bad celebrity encounter: Juliana Hatfield (from episode 112), Celebrity Rehab featuring Gary Busey and Jeff Conaway (from episode 117), our movie review of Snowglobe (2007) starring Christina Milian (from episode 119), the antics and poor wrestling ability of the immortal Hulk Hogan (from episode 140), Paul McCartney's classical music flop (from episode 143), the music video to Paul McCartney's "Coming Up" (from episode 143), Jesse Ventura making fun of Dick Cheney (from episode 150), This Man's Not Dead: Ross Perot (from episode 156), and Jean-Claude Van Damme insulting Sylvester Stallone (from episode 157).
This work is licensed under a Creative Commons Attribution-NonCommercial-NoDerivs 3.0 United States License.
Attribution by The Paunch Stevenson Show.
Released February 2011 on The Overnightscape Underground (onsug.com), an Internet talk radio channel focusing on a freeform monologue style, with diverse and fascinating hosts presenting amazingly unique programs that are safe and effective.