Podcast: Play in new window | Download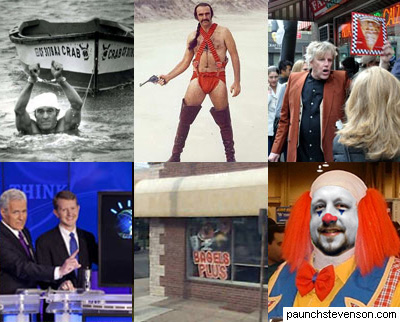 57:00 - Celebrity deaths (Jack LaLanne), WWF wrestler Dino Bravo, Rob's new solo podcast The Goodrob13 Music Show,walking around NYC talking into a sock, Frank Nora's podcast network The Overnightscape Underground, the Overnightscape Central podcast, Sean Connery refusing to participate in the 50th anniversary of James Bond,Zardoz (1974) starring Sean Connery, Will Smith's daughter Willow Smith starring in an upcoming remake of Annie, The Fresh Prince of Bel-Air, Ashton Kutcher's new TV show, the lack of talent in Hollywood today, The Dark Knight Rises (2012) starring Anne Hathaway as Catwoman, more of Stan Lee's Twitter tweets,The Celebrity Apprentice season 4 starring Gary Busey and La Toya Jackson, Regis Philbin retiring from Live with Regis and Kelly in November 2011, IBM's computer Watson competing against humans on Jeopardy!, Eliza Dushku updates (The Big Bang Theory, her broken finger, and her car being towed), the return of Bagels Plus in Belleville, NJ, drawing posters about Belleville in seventh grade, Chicken Galore, our nasty psychotic seventh grade math teacher (and part-time clown), the vice principal getting punched out, our typing teacher playing The Howard Stern Show and selling watches in class, his son's collection of every G1 Transformer in the box,and a different classmate's collection.
This work is licensed under a Creative Commons Attribution-NonCommercial-NoDerivs 3.0 United States License.
Attribution by The Paunch Stevenson Show.
Released February/March 2011 on The Overnightscape Underground (onsug.com), an Internet talk radio channel focusing on a freeform monologue style, with diverse and fascinating hosts presenting amazingly unique programs that are safe and effective