Podcast: Play in new window | Download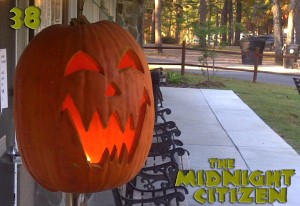 1:53:32 — Here's a bunch of audio I got on my camping trip to Noccalula Falls, AL to do my Halloween show, which will be posted this weekend.  Very raw and unpolished, recorded with an indescreet Zoom, which draws some very curious stares from random passersby, mainly in Wal-Mart when I'm buying food and beer for the campsite.  Topics include equipment check, "Henry Winkler and Fonzie", jackhammer outside my bedroom window, the cat's meow, flat tires, a trip to the Briary to pick up some cigars, road work that leads to about a one hour detour, Super Listening, Chadcast, "I just put the ketchup on the last burrito!", Frank Nora and the Overnightscape, Occupy Wall Street, vacation follies, Wal-Mart shopping, beer buying, hobo chicken, Evil Dead, a nice morning stroll around the camp ground, a final cigar, a return to civilization and responsibility, and being solicited crack at the country filling station. 
This work is licensed under a Creative Commons Attribution-NonCommercial-NoDerivs 3.0 United States License. Attribution: by Mike Boody – more info at onsug.com
Released October 2011 on The Overnightscape Underground (onsug.com), an Internet talk radio channel focusing on a freeform monologue style, with diverse and fascinating hosts.