Podcast: Play in new window | Download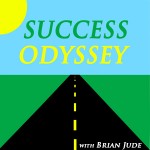 22:42 – Dr. Rob Gilbert, who teaches Sports Psychology and Yoga at Montclair State University, started Success Hotline as a way to help motivate his students during the Spring semester of 1992. 20 years later, Dr. Gilbert is STILL recording a new message on Success Hotline, every single day! One of my favorite lessons of his is the equation K-A=0 – Knowledge minus Action equals NOTHING. But in analyzing the equation and incorporating principals of the Law of Attraction, I may have stumbled upon another equation…
Suggested Links:
http://twitter.com/successhotline
http://gilbertsuccesshotline.blogspot.com
Dr. Rob Gilbert on YouTube
CALL SUCCESS HOTLINE EVERY DAY: 973-743-4690
Follow this and other great podcasts on the Inspirational Internet Radio Network and The Overnightscape Underground!
E-mail us at successodysseypodcast@gmail.com
Follow us on Twitter! "Like" us on Facebook!
This work is licensed under a Creative Commons Attribution-NonCommercial-NoDerivs 3.0 International License.
Attribution: by Brian Jude – more info at onsug.com
Released May 2012 on The Overnightscape Underground (onsug.com), an Internet talk radio channel focusing on a freeform monologue style, with diverse and fascinating hosts.