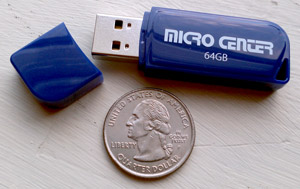 As you may know, Pocket Overnightscape is a complete archive of The Overnightscape Underground converted to lo-fi audio. The MP3s are 24kbps/16kHz mono, and have a warm sound like a late night AM radio broadcast.
Currently, the archive contains 4,231 tracks, totaling over 150 days of audio. All this takes up just 37 gigabytes.
In the picture above is a 64GB flash drive I bought at Micro Center today. It was only $32.99. I copied the entire archive onto it, and it has over 20GB of space left.
I would love for other people to make their own copies of Pocket Overnightscape on a flash drive. It really is an important concept for making sure all the shows make it to the future.
Yes, right now, all these files are very easy to download, but nothing is guaranteed. And even if you were to download it to your computer or hard drive – these things have a tendency to break and get lost as one upgrades. But a little flash drive, stored in a safe place, could go on for a long, long time…