Podcast: Play in new window | Download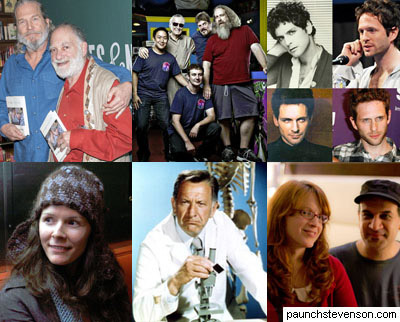 1:07:29 – In this episode:
meeting Jeff Bridges again,
The Dude and the Zen Master by Jeff Bridges and Bernie Glassman,
more Paunch Luck and people who don't post their videos of events,
Starman (1984) starring Jeff Bridges and Karen Allen,
our review of the 2nd season of Comic Book Men on AMC (birthday party, Kevin Smith signing, Ming in drag, and Stan Lee),
Run For Your Lives Zombie 5K obstacle course run (www.runforyourlives.com),
stuck between a rock and a hard place,
fellow NAVA member Stephanie McKeon's appearance on Comic Book Men,
video gaming podcast Our Brooklyn Bytes hosted by Leon Barber and Stephanie,
celebrity deaths (Hector "Macho" Camacho, Larry Hagman, Dave Brubeck, Ravi Shankar, Jack Klugman, Norman Schwarzkopf, Conrad Bain, Abigail Van Buren, and Earl Weaver),
Paul McCartney is NOT dead,
Quincy, M.E.,
the 1987 computer game Earl Weaver Baseball,
Robert Duncan McNeill's 666 Park Avenue was canceled,
the Paunch show archive created by Frank Nora of onsug.com,
Stefani Germanotta (pre Lady Gaga) performing Led Zeppelin's "D'yer Maker" in NYC in January 2006 (video),
Eddie Brickell's "Good Times" music video on Windows 95 CDs,
a listener email from Led Zeppelin cover band Custard Pie and That Confounded Bridge guitarist Kevin Nay,
and a Paunch tweet retweeted by It's Always Sunny in Philadelphia star Glenn Howerton (our photo collage showing Glenn's uncanny resemblance to Lindsey Buckingham).
License: Creative Commons Attribution-NonCommercial-NoDerivs 3.0 Unported License (creativecommons.org/licenses/by-nc-nd/3.0/). Attribution: by Rob and Greg – more info at paunchstevenson.com
Released January 2013 on The Overnightscape Underground (onsug.com), an Internet talk radio channel focusing on a freeform monologue style, with diverse and fascinating hosts.