Podcast: Play in new window | Download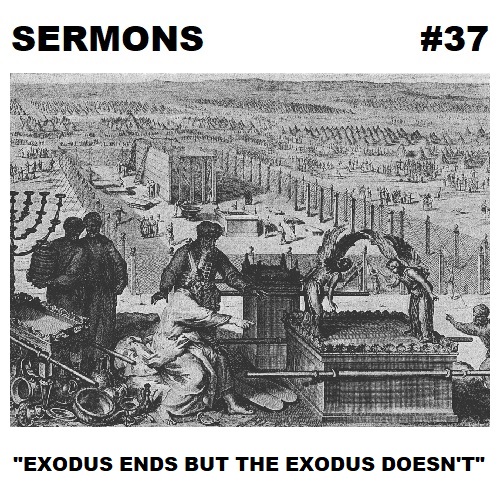 30:36 – The Promised Land is still a ways off when Moses types "30" or "THE END" at the bottom of last page of the Book of Exodus. Who knew?? No doubt a sequel is in the works. Why was there was so much repetition in the early books of the Bible? What language were the stone tablets written in? Were there 603,550 adult male Israelites or were there six hundred squad leaders commanding 3,550 fighting men? What do Ray Bradbury, Devo and Weird Al Yankovic have to do with anything we're talking about? Tune in and Dave in Kentucky will tell you, or at least tell you what he thinks about it. Also: a preview of what comes next in the series (hint: it ain't Leviticus) including some tasty classical accordion music. (Baroque, actually.)
Show art: The Erection of the Tabernacle and the Sacred Vessels by the illustrators of Figures de la Bible (1728) by Gerard Hoet (1648-1733), Public Domain.
Closing theme: Part of "The Arrival of the Queen of Sheba" from Act III of Solomon (1748) by George Frideric Handel (1685-1759), Public Domain, performed by the Accordion Ensemble ARTE in 2017, Creative Commons Attribution-ShareAlike 4.0.
This show is licensed under a Creative Commons Attribution-NonCommercial-NoDerivs 3.0 Unported License. Attribution: by Dave in Kentucky – more info at onsug.com and sermons.blog.
This episode, along with all other episodes of SERMONS, is also available at sermons.blog.