Podcast: Play in new window | Download
58:15 – [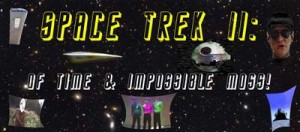 Original Earth Transmission Date: June 2012]
"Space…the final frontier. These are the voyages of the Starship Arrow. It's never ending mission to explore strange living rooms. To seek out new viewers & better plots. To boldly go where no series will ever go!" With these immortal words a certain cable access show launched itself into (self proclaimed) underground cult status fame about 30 years ago. So in this next edition of our 'revisited' series of episodes for Gunkcast (leading up to our promised grand finale), we have included a new & very special intro segment from a certain podcast luminary! And if that isn't enough, additional bonus content as well as everything being remixed & remastered are just a few reasons to tune in for this unparalleled audio journey! Hey, what more can you ask for on a podcast? Again, thanks for reliving all the lunacy with us! ——Byron
Here it is at last…the much anticipated 2nd part of the Space Trek saga! Learn what happens as Dr. Stones M'Boy, Sock, Checkout, Snotty, & the rest of the crew of the Starship Arrow embark on a perilous journey to rescue the missing Captain Jerk…who has been abducted and exiled through time & space by the villainous Double-J Raygun. With assistance from the mysterious character known as The Doc (& his TARGIT) they encounter some unexpected twists along the way, finding themselves in quite possibly the most harrowing predicament of all by the end of this most suspenseful & lunatic chapter of the epic sci-fi comedy adventure! Trust us…this one's a madhouse!
Also, please share the love and listen to some of our favorite podcasts at—-Static Radio, Special Delivery, Onsug, & Insignificast!
License for this track: Creative Commons Attribution-NonCommercial-NoDerivs 3.0 Unported License (creativecommons.org/licenses/by-nc-nd/3.0/). Attribution: by Byron Duddle – more info at onsug.com or gunkcast.tumblr.com
Released November 2015 on The Overnightscape Underground (onsug.com), an Internet talk radio channel focusing on a freeform monologue style, with diverse and fascinating hosts.