Podcast: Play in new window | Download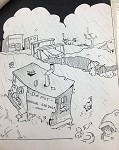 (16:48) Real fan mail to the "Vic and Sade" radio program (circa 1942-43), lovingly written and lovingly read.
Conceived and hosted by Dave Duckert
Produced by Jimbo
Readers: Dave Duckert, Kristen, Lori, Jimbo, Sarah Cole and Emily.
Thanks:
Wisconsin Historical Society
Paul Rhymer Papers, Additions
Call Number M89-357
Fan Mail – Box 4 folders 6-11
"Vic and Sade" was created and written by Paul Rhymer. For all your "Vic and Sade" needs, visit The Crazy World of Vic and Sade.
License for this track: Creative Commons Attribution-Noncommercial-No Derivative Works 3.0 United States (http://creativecommons.org/licenses/by-nc-nd/3.0/us/). Attribution: by Jimbo, Dave Duckert, Emily, Lori and Sarah Cole. – more info at onsug.com