Podcast: Play in new window | Download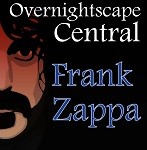 (2:41:47) A celebration of the music, politics, memories and the conspiracy surrounding a no-doubt genius, Frank Zappa.
intro .. Frank Edward Nora explores MK Ultra (etc.) and Zappa .. PQ Ribber recalls fond days growing up with Zappa in his ears .. Marc Rose testifies to the political side of Zappa .. Shambles Constant recalls his few memories of the man .. Your host Jimbo has the Week in Review and explores the musical side of Zappa
---
You're all invited to be a part of next week's show; you can tell us all what's on your mind about the following topic: Close Calls
Please have your contributions sent to Jimbo by 🕖 7 pm EDT, July 17, 2017. If you know Jimbo's e-mail address, send your contribution there. Otherwise, send your contributions to onsugcentral@gmail.com.
Music credit (in order):
Florentine Pogen (intro) (Napoleon Murphy Brock), Uncle Remus (Ike Willis), Call Any Vegetable (Zappatime), Twenty Small Cigars (Tyler Bartram), Zomby Woof (Rachael Flowers), I'm the Slime (The Jauntee), San Ber'dino (unknown), Inca Roads (Mike Keneally and Bryan Beller)
Attribution by Jimbo. Guests appear courtesy of themselves.
This work is licensed under a Creative Commons Attribution-NonCommercial-NoDerivs 3.0 United States License.
Released July 2017 on The Overnightscape Underground (onsug.com), an Internet talk radio channel focusing on a free-form monologue style, with diverse and very clever hosts presenting unique programs, historic archival material, and nocturnal audio.