Podcast: Play in new window | Download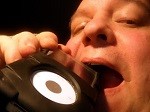 (34:35) Wow, people really listen and care about this show? It's possible, Deputy Dawg.
North Texas .. Austin .. lady who fell .. Shambles is back! .. a nice e-mail .. big Zero bars .. candy bars .. Kit Kat and peppermint patties .. waxy candies .. my brother .. Bic pens .. Black Cherry soda .. Cheeze Whiz, Velveeta, and Spam .. Summer sausage
Jimbo would appreciate your comments!
License for this track: Creative Commons Attribution-NonCommercial-NoDerivs 3.0 Unported License (creativecommons.org/licenses/by-nc-nd/3.0/). Attribution: by Jimbo – more info at TheOvernightscape.com