Podcast: Play in new window | Download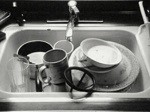 (22:54) It's a pleasant noon hour at home and you'll enjoy it too! Uncle Fletcher-type stories without Uncle Fletcher, doncha know?
Examine this episode more closely: 41-01-22 A Very Pleasant Noon Hour
"Vic and Sade" was written by Paul Rhymer.
This work is licensed under a Creative Commons Attribution-NonCommercial-NoDerivs 3.0 United States License.