Podcast: Play in new window | Download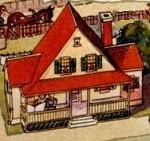 (17:39) Shambles Constant is here to tell us about the gift Mr. Erickson gave his daughter: the small house half-way up the next block.
Examine this episode more closely: 41-05-08 Landlord's Sneaky Trick
"Vic and Sade" was written by Paul Rhymer.
A big THANK YOU to Internet audio pioneer Frank Edward Nora and ONSUG for hosting the VIC AND SADECAST.
This work is licensed under a Creative Commons Attribution-NonCommercial-NoDerivs 3.0 United States License.