Podcast: Play in new window | Download
1:46:24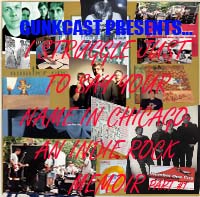 – Join Smidge as he welcomes a very special guest to the show for an all-out music extravaganza! Michael Lenzi was one of the key members of a pivotal Chicago Indie-Rock band from the 90's called Number One Cup. Hear the story of how a Bowie/punk rock fan from DC followed his music dream to Chicago, and ended up forming a  band which found an audience very far away! Learn how mailing their 1st single to the legendary John Peel in the U.K. in the early 90's changed everything for the band. From tales of being stranded out West on their 1st U.S. tour, to playing festivals throughout Europe, to such onstage antics as the destruction of their instruments/gear, an encounter with Thom Yorke of Radiohead, to recording in the same famous studio used by Nirvana for their final LP (while former Husker Du drummer Grant Hart wandered in!)… this episode is packed with many fascinating stories of Michael's music journey with Number One Cup!
A special note that Michael & his wife run their own independent record label called Sweet Pea Records, and all the music used to soundtrack this episode may be found & acquired through this site. Please also check out their Facebook page as well. Besides Number One Cup, many of the other music projects Michael has been part of can be found on Sweet Pea Records as well. Cheers!
Also, please share the love and listen to some of our favorite podcasts at: Onsug, Static Radio, Insignificast, The Hustle, Rock Solid, The Not New Review, The Unblinking Ear, & The Pods & Sods Network.
License for this track: Creative Commons Attribution-NonCommercial-NoDerivs 3.0 Unported License (creativecommons.org/licenses/by-nc-nd/3.0/). Attribution: by Smidge Kurdlebaum – more info at onsug.com or trashcanrock.com
Released May 2019 on The Overnightscape Underground (onsug.com), an Internet talk radio channel focusing on a freeform monologue style, with diverse and fascinating hosts.