Podcast: Play in new window | Download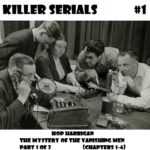 1:51:53 – A brand-new Onsug show featuring classic radio serials, complete and in the proper sequence, collected and introduced by Dave in Kentucky.  First up:  Hop Harrigan in "The Mystery of the Vanishing Men" from July of 1947.  Part One includes the first six episodes of this 18-episode serial, with Dave's comments interspersed.
This show is licensed under a Creative Commons Attribution-NonCommercial-NoDerivs 3.0 Unported License. Attribution: by Dave in Kentucky – more info at onsug.com.
(Show art by Collectie SPAARNESTAD PHOTO/Wiel van der Randen, via Nationaal Archief. on Flickr, Attribution.)