Podcast: Play in new window | Download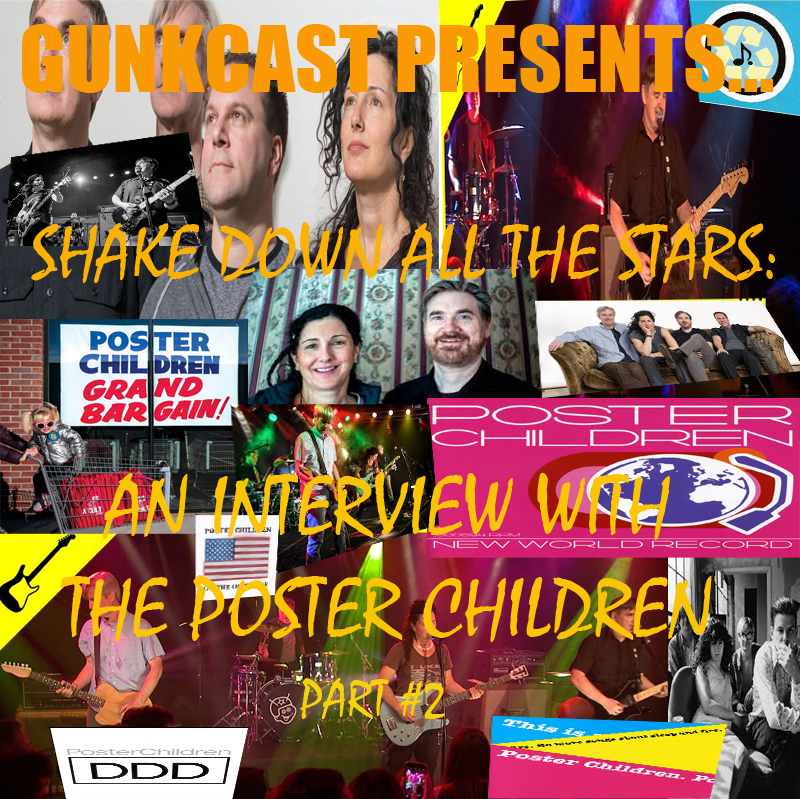 1:34:25 – Join Smidge as he concludes his big two-part interview with Rick Valentin & Rose Marshack of the legendary Indie Rock band the Poster Children! This picks right up where Part #1 left off… so if you haven't heard that one yet, then you best catch it here 1st! In the midst of the 90's Alt Rock explosion, we find the Poster Children signed to a major label which suddenly undergoes a regime change. For most bands this would mean an imminent crash & burn scenario as their safety net is pulled away. But the Poster Children had played the game smart and were ready to go full independent status again. Armed with their passion for their own unique brand of indie rock / "post wave" music (as well as a recording studio built with $$ made from the major label), they recorded a series of excellent albums which would take them into the 2000's.
Also by this time Rick & Rose had found careers as university professors, as well as becoming parents (& even had become fairly influential podcast hosts themselves). As can be expected, the output of the Poster Children (especially their trademark for incessant live touring) dramatically slowed down during this time. But then came the re-release of Daisychain Reaction in 2016 (for a special anniversary edition combined with a live tour). This reunited them with famed audio engineer/producer Steve Albini and resulted in them going back into the studio with Steve to record a fantastic new LP called Grand Bargain (released in 2018). Smidge praises this LP as a return to form for the band (while Rick is bummed that it is still tragically relevant to current events)!
Once again (as with Part #1), this episode features many fascinating stories. Some interesting random notes (just to tease your interest) are tales of how the last major label they were signed to became an Invasion of the Bodysnatchers scenario at the bitter end, meeting Fred Schneider (of B-52's fame) at a small bar on the outskirts of Chicagoland, playing with Fugazi who had their stage monitor stolen by Nazi skinheads at an out of control show, Rick going through the Kübler-Ross 5 stages of grief when he decides to be the band's recording engineer, talk of the late Jay Bennett & his ties to Titanic Love Affair/Wilco, Smidge getting Rick & Rose emotional when asking about their song meanings, and much much more! In short folks, this episode is a must listen… cheers!
Also, please share the love and listen to some of our favorite podcasts at: Onsug, Static Radio, Insignificast, The Hustle, Rock Solid, The Not New Review, & Radio Zero.
License for this track: Creative Commons Attribution-NonCommercial-NoDerivs 3.0 Unported License (creativecommons.org/licenses/by-nc-nd/3.0/). Attribution: by Smidge Kurdlebaum – more info at onsug.com or trashcanrock.com
Released October 2020 on The Overnightscape Underground (onsug.com), an Internet talk radio channel focusing on a freeform monologue style, with diverse and fascinating hosts.