Podcast: Play in new window | Download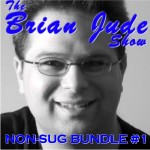 3:18:48 – It's the first anniversary of The Brian Jude Show today! To celebrate, I am releasing the first in a series of episodes that were previously unreleased here on the Overnightscape Underground channel, packaged together into "NON-SUG Bundles!"
This first volume includes:
– BJS002: What About the Boy? (Originally released 9/30/09)
My second, and potentially my last show. In this episode we take a trip to Anything But Costumes Prop Rental House in Flemington, New Jersey, where I pick up props for T. Schreiber Studios' production of "Rosencrantz and Guildenstern are Dead" while discussing my son, Jacob. Listen as I butcher the word "Guildenstern," and talk about my busted GPS, Edward Norton, my web design work, "Sweet Bird of Youth," "Picasso at the Lapin Agile," Cat Parker, "A Bronx Tale," my URL & iTunes updates, Judaism & my family, my work with Kaplan Medical, the Jersey Devil Hunters, news video of a horse attacked by an unknown animal, my dad's encounters with the Jersey Devil, women who inspired "Lucy in the Sky with Diamonds" and "Sexy Sadie" dead, Eric Roberts' new CD "My Brazilian Heart," DCT Live 2.0 NYC, comedian John McClellan's blog "4 Minutes of Fame," Geoffrey "Badger" Gould and black smoke – 9/11, the future of The Jacob & Daddy Show, my son's birth, VACTERL association, rescuing Jacob, his new school, learning Polish. Plugs: ONSUG's "Rambling Roundup" with Eddie Murray, Morning Commute with Bob, Brandon Rambles/now Ramblecast, Into Your Head, The Rubenerd Show, Big Kev's Geek Stuff and my suggestions for "Heroes," FLIC(K).
– BJS003: Mercury Retrograde Won't Leave Me Alone (Originally released 10/3/09)
My third and potentially last show, and I'll tell you WHY it may be my last… all while walking two miles in Nyack, New York to the beginning of a parade with the Tappan Zee Bridgemen. Topics covered: Explaining Mercury Retrograde, people asking me questions, problems uploading Episode 2, my bluetooth, my car, DCT Comedy project tapes not digitizing, TK Music Rock Academy, Uploading photos to Facebook, my busted GPS fixed, the "Weird Al" ringer, Jimmy Sheridan, Manny the Mailman, Carrie Engdahl, Dawn Peat McNamara, Rampler on WFMU is no more, Tom Walker. Concludes with Friday's Child's "Pay Day Ray" © 1998 Thomas V. Walker/Can't See the Honeybee Music, Used With Permission.
– BJS005: The Search for BJS004 (Originally released 10/8/09)
My fifth and potentially last episode, in which I talk about why my actual last episode (i.e. previous, not final) is no longer available. For those of you who missed it, I also recap my dreams about The Six Fingered Jesus with the Lame Left Arm and The Bell-Shaped UFO, and discuss being sick, thoughts on the swine flu vaccine, my impromptu visit from Verizon, DCT Concerts on CBS Interactive's tv.com, DCT Comedy pilots and plug The Industrial Jazz Group "avant-garde party music," Jill Knapp, Andrew Durkin, Brooklyn Ferry, The Evelyn Situation, Jay's Booming Hat and Stephanie Richards.
– BJS006: Lunchtime and The Jersey Devil (Originally released 10/15/09)
My sixth show – and no more negative comments on how many I might be doing in the future! Listen as I make my standard lunch – peanut butter and apple. I discuss my progress on the DCT Comedy 30-minute pilots, the TK Music Rock Academy project, Jacob's realization that I can now edit the unreleased episodes of The Jacob & Daddy Show, spending time at The Unitarian Universalist Congregation at Montclair, Melanie & I appearing in Selections from "Spoon River Anthology," Senior Youth Group overnight lock-in, The Jersey Devil Hunters may be on SyFy's "Destination Truth." Concludes with audio from the interview with my father about his encounters with The Jersey Devil.
– BJS007: Shopping Wild (Originally released 10/19/09)
Take a trip with me to a wild, magical far away place called Shop Rite. (Okay, it's not wild, magical, or far away, but I'm in that kinda mood.) I discuss lower sales tax in New Jersey "urban areas," Jacob being sick again, Melanie's birthday, the comparison between The Balloon Boy and Max from "Where the Wild Things Are," hoping to go to the Apple Store & the movies tomorrow if the boy isn't still sick, Optimum Rewards, Clearview Cinemas, Arcade Fire, Brandon Rambles – now Ramblecast WV, Frank Nora's Radio Vacation, Industrial Jazz Group, Iron Monkey Automata Chino, Peanut Butter & Apple Facebook picture comments, GPS, Louisiana Justice of the Peace Keith Bardwell not marrying interracial couple, Jeremiah Kipp's short film "Contact" is showing at the end of the month at Sinister Six Fest, Zoë Daelman Chlanda, Robb Leigh Davis, Alan Rowe Kelly, Fangoria, Tom Walker of Friday's Child and Tasty Cocoa in Caldwell, New Jersey. Concludes with Industrial Jazz Group's "Big Ass Truck" from the album LEEF.
Links & photos associated with each individual episode can be found at http://brianjudeshow.blogspot.com
This work is licensed under a Creative Commons Attribution-NonCommercial-NoDerivs 3.0 International License.
Attribution: by Brian Jude – more info at
onsug.com
Released September 2010 on The Overnightscape Underground (
onsug.com
), an Internet talk radio channel focusing on a freeform monologue style, with diverse and fascinating hosts.