Podcast: Play in new window | Download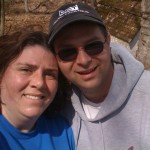 56:58 – Today I met up with my friend Kati Gegg at Washington Crossing State Park in Titusville, NJ, as we did a training walk for our upcoming participation in Out of the Darkness Overnight – an 18-mile walk over the course of one night in New York City. Net proceeds benefit the American Foundation for Suicide Prevention, funding research, education, and awareness programs – both to prevent suicide and to assist those affected by suicide. Today's topics include turning the radio down through toll booths, April Fool's Day idea for next year, this year I changed my Facebook profile name to Sherman Nyrphryeizhenyrphglergryr and lost 10 friends (but gained one back), soon approaching an Academy Award winner to play Morris Goodman for "The Miracle Man," baby names for Boy #2, Pinky Dinky Doo and her Little Brother Tyler, Big Kev's Geek Stuff, Exposed with Kay and Abi, The Tobolowsky Files, Neal from Ireland in Newark, mailing the rest of the Miracle Man t-shirts, meeting up with Manny the Mailman, Kati's participation in last year's Out of the Darkness Overnight walk in Boston, walking slower is a harder workout, issues being a suicide survivor, warning signs of suicide, Revolutionary War reenactment, getting stuck in traffic on Christmas for the reenactment of Washington's Crossing, visiting center, losing the Blue Dot Trail, air raid sirens, random telephone pole in the middle of a field, living in Lancaster, PA, Spring House, burrito lunch at Gabriel's II pizzeria, correction to BJS002: learning disability is not considered to be related in any way with VACTERL association.
MAKE A DONATION FOR THE OUT OF THE DARKNESS OVERNIGHT WALK AT: http://tinyurl.com/ootdobj
Theme music: "The Chasing Game" by Friday's Child.
Related Photos:


Buy ONE t-shirt for your whole family!

Revolutionary War reenactment.

There's a part of the recording that didn't make it into the episode due to technical difficulties where we read part of this sign…

…and had this view of the part of the Delaware where Washington crossed.

Crazy tree.

Spring House.
This work is licensed under a Creative Commons Attribution-NonCommercial-NoDerivs 3.0 International License.
Attribution: by Brian Jude – more info at
onsug.com
Released April 2011 on The Overnightscape Underground (
onsug.com
), an Internet talk radio channel focusing on a freeform monologue style, with diverse and fascinating hosts.