Podcast: Play in new window | Download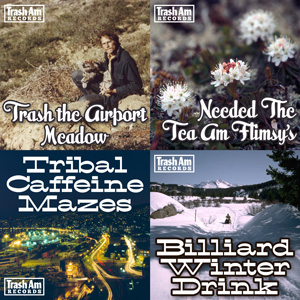 5:13:57 – Here's a 4-CD box set of amazing music – all combined into a single convenient MP3 file! It's like a cool little radio station in your pocket with an abundant supply of addictive tunes!
Trash Am Records came about because I think it's time to start paying more attention to music released under Creative Commons licenses – which allow the music to be downloaded and shared freely, including being able to play the songs on podcasts.
Most of the commercial music we all know and love is shackled under an outdated copyright and music licensing system, which makes it illegal to play on podcasts – or to share the songs with your friends. It really is a sad state of affairs.
So thank goodness so many talented musicians are releasing their songs under Creative Commons! I have been spending a huge amount of time lately on Jamendo.com to find great songs and to sequence them into compilation albums – and the result is Trash Am Records (a completely non-commercial project).
The first four records:
Trash Am #1 – Trash The Airport Meadow
Trash Am #2 – Needed The Tea Am Flimsy's
Trash Am #3 – Tribal Caffeine Mazes
Trash Am #4 – Billiard Winter Drink
The album titles, cover art, and song sequences are by me. Otherwise, I had nothing to do with the creation of these songs. Please support these artists in any way you can! (I have not contacted the artists telling them they have been included, because the time and energy that would require is beyond the scope of this project, and they have already given permission for this type of non-commercial compilation by using Creative Commons licenses).
I do plan on releasing the albums separately, but for now, enjoy this huge slab of satisfying music. My goal was to create records that I myself would crave and enjoy listening to over and over again – and in that I have succeeded. The music genres included are generally rock, pop, electronic, and eclectic.
I released the first record, Trash The Airport Meadow, on June 9, 2011. I loved it so much I decided to make a sequel – a project which began to take up more and more time and eventually lead to these three additional albums – which I am very excited about. Enjoy!
Frank Edward Nora
October 30,2011
License: Each of the 86 songs in this track are licensed under individual Creative Commons licenses – see below for details. Compiled by Frank Edward Nora – more info at onsug.com
Update: The albums can be downloaded in traditional format here.
First Four Trash Am Records (2011)
===================================================
Trash Am #1 – Trash The Airport Meadow
===================================================
Track 1
Culttastic – I'm the Night
Song page: http://www.jamendo.com/en/track/788399
License: http://creativecommons.org/licenses/by-nc-nd/3.0/
Track 2
The Very Unknown Friends Of Jane Doe – Again
Song page: http://www.jamendo.com/en/track/788588
License: http://creativecommons.org/licenses/by-nc-nd/2.0/de/
Track 3
misha64u – Strange music1
Song page: http://www.jamendo.com/en/track/606988
License: http://creativecommons.org/licenses/by-sa/2.5/il/
Track 4
Paper Tiger – 1995
Song page: http://www.jamendo.com/en/track/303478
License: http://creativecommons.org/licenses/by-nc-sa/3.0/nl/
Track 5
Jim Guittard – You Can Not Knock Me Down
Song page: http://www.jamendo.com/en/track/622772
License: http://creativecommons.org/licenses/by-nc-sa/3.0/
Track 6
Yvalain – Soul Colors (The Eastern Version) – ft. Jacques Delorenzi
Song page: http://www.jamendo.com/en/track/787389
License: http://creativecommons.org/licenses/by-nc-sa/3.0/
Track 7
Paul Lisak & After The Ice – Tripping
Song page: http://www.jamendo.com/en/track/157207
License: http://creativecommons.org/licenses/by-nc-sa/2.0/uk/
Track 8
Phonophobia 70 – FLY TO CHINA
Song page: http://www.jamendo.com/en/track/202131
License: http://creativecommons.org/licenses/by-nc-sa/3.0/
Track 9
Romahichi – So Loud! (Re-Edited)
Song page: http://www.jamendo.com/en/track/600840
License: http://creativecommons.org/licenses/by-nc-sa/3.0/
Track 10
The Patinettes – The man with the electric flag
Song page: http://www.jamendo.com/en/track/788166
License: http://creativecommons.org/licenses/by-nc-nd/3.0/
Track 11
Heifervescent – Chase the Vagabonds
Song page: http://www.jamendo.com/en/track/784626
License: http://creativecommons.org/licenses/by-nc-nd/3.0/
Track 12
Zehntausend Deutschmarks – Laut und Bunt
Song page: http://www.jamendo.com/en/track/512194
License: http://creativecommons.org/licenses/by-sa/3.0/
Track 13
Sluttrigger – Powerlush
Song page: http://www.jamendo.com/en/track/536491
License: http://creativecommons.org/licenses/by-nc-sa/3.0/
Track 14
TranceFlute – Bear Dance
Song page: http://www.jamendo.com/en/track/312416
License: http://creativecommons.org/licenses/by-nc-sa/3.0/
Track 15
Depressive Art – Pyschedelic Ghostride
Song page: http://www.jamendo.com/en/track/200498
License: http://creativecommons.org/licenses/by-nc-nd/3.0/
Track 16
DUST RIVER – Never Forgive
Song page: http://www.jamendo.com/en/track/208878
License: http://creativecommons.org/licenses/by-nc-nd/2.0/fr/
Track 17
Townwalkers – Girlfriends
Song page: http://www.jamendo.com/en/track/787131
License: http://creativecommons.org/licenses/by-sa/3.0/
Track 18
Chewrafa – Chiptune 01 – Last Chip Standing
Song page: http://www.jamendo.com/en/track/188738
License: http://creativecommons.org/licenses/by-nc-sa/2.5/es/
Track 19
LukHash (SH music) – H8 U (lukhash.com)
Song page: http://www.jamendo.com/en/track/485376
License: http://creativecommons.org/licenses/by-nc-nd/3.0/
Track 20
Damaged Gods – Celestial Mechanix
Song page: http://www.jamendo.com/en/track/24924
License: http://creativecommons.org/licenses/by-nc-nd/3.0/
Track 21
SuperNova – Electric Garden
Song page: http://www.jamendo.com/en/track/35348
License: http://creativecommons.org/licenses/by-sa/2.5/
===================================================
Trash Am #2 – Needed The Tea Am Flimsy's
===================================================
Track 1
Juanitos – Black Samba
Song page: http://www.jamendo.com/en/track/509674
License: http://creativecommons.org/licenses/by-sa/2.0/fr/
Track 2
Depressive Art – Solar System
Song page: http://www.jamendo.com/en/track/200494
License: http://creativecommons.org/licenses/by-nc-nd/3.0/
Track 3
misha64u – 1978
Song page: http://www.jamendo.com/en/track/606968
License: http://creativecommons.org/licenses/by-sa/2.5/il/
Track 4
The Heavens – This Beautiful Machine
Song page: http://www.jamendo.com/en/track/144112
License: http://creativecommons.org/licenses/by-nc-nd/3.0/
Track 5
The Acousticals – Pinegrass Medley
Song page: http://www.jamendo.com/en/track/147288
License: http://creativecommons.org/licenses/by-sa/3.0/
Track 6
The Easton Ellises – Liquorstore
Song page: http://www.jamendo.com/en/track/802672
License: http://creativecommons.org/licenses/by-nc-sa/2.5/ca/
Track 7
The Singletons – Once Upon A Time
Song page: http://www.jamendo.com/en/track/220937
License: http://creativecommons.org/licenses/by-nc-sa/3.0/
Track 8
Domenico Pandolfo aka TheTranceMaster – Going Astray (Original Radio Edit)
Song page: http://www.jamendo.com/en/track/563150
License: http://creativecommons.org/licenses/by-nc-sa/3.0/
Track 9
Paul Lisak & After The Ice – It Happens All The Time
Song page: http://www.jamendo.com/en/track/157206
License: http://creativecommons.org/licenses/by-nc-sa/2.0/uk/
Track 10
Manegi – Welcome To The Big Rock
Song page: http://www.jamendo.com/en/track/565319
License: http://creativecommons.org/licenses/by-nc-sa/3.0/
Track 11
DOUG the Eagle – Mr Apocalypse
Song page: http://www.jamendo.com/en/track/565121
License: http://creativecommons.org/licenses/by-nc-sa/2.0/uk/
Track 12
locarnoband – Strawberry in your shoes
Song page: http://www.jamendo.com/en/track/208855
License: http://creativecommons.org/licenses/by-sa/2.5/pl/
Track 13
The Zombie Drivers – grass girl
Song page: http://www.jamendo.com/en/track/155115
License: http://creativecommons.org/licenses/by-nc-sa/3.0/
Track 14
The Wind Whistles – Gold Fever
Song page: http://www.jamendo.com/en/track/143782
License: http://creativecommons.org/licenses/by-nc-sa/3.0/
Track 15
Tevellus – Funk For Ghang
Song page: http://www.jamendo.com/en/track/827217
License: http://creativecommons.org/licenses/by-nc-sa/3.0/
Track 16
Pepino Psyco – 224
Song page: http://www.jamendo.com/en/track/773319
License: http://creativecommons.org/licenses/by-sa/2.0/fr/
Track 17
Alex Emanov – Dansing Galaxy (intro)
Song page: http://www.jamendo.com/en/track/826951
License: http://creativecommons.org/licenses/by-nc-sa/3.0/
Track 18
Don Paterson (DatE) – Smoothie mod
Song page: http://www.jamendo.com/en/track/129915
License: http://creativecommons.org/licenses/by-nc-sa/2.5/ca/
Track 19
Jim Guittard – Fear Is Nothing New
Song page: http://www.jamendo.com/en/track/622778
License: http://creativecommons.org/licenses/by-nc-sa/3.0/
Track 20
Qsign – Believe
Song page: http://www.jamendo.com/en/track/428342
License: http://creativecommons.org/licenses/by-nc-nd/3.0/
Track 21
Kangaroo MusiQue – Prehistorik Man (Amstrad)
Song page: http://www.jamendo.com/en/track/26112
License: http://creativecommons.org/licenses/by-nc-sa/2.5/
Track 22
Hot Fiction – I Just Want Your Body
Song page: http://www.jamendo.com/en/track/618818
License: http://creativecommons.org/licenses/by-nc-nd/3.0/
Track 23
Tadd Euro – Garbage on the road
Song page: http://www.jamendo.com/en/track/789698
License: http://creativecommons.org/licenses/by-sa/3.0/
Track 24
bethke-musik – new-beat
Song page: http://www.jamendo.com/en/track/822460
License: http://creativecommons.org/licenses/by-nc-sa/3.0/
===================================================
Trash Am #3 – Tribal Caffeine Mazes
===================================================
Track 1
Hot Fiction – Start It Off
Song page: http://www.jamendo.com/en/track/618820
License: http://creativecommons.org/licenses/by-nc-nd/3.0/
Track 2
Hot Stroke – From_high_to_low
Song page: http://www.jamendo.com/en/track/852775
License: http://creativecommons.org/licenses/by-nc-sa/3.0/
Track 3
Emorej – Electronic Sound
Song page: http://www.jamendo.com/en/track/774860
License: http://creativecommons.org/licenses/by-sa/3.0/
Track 4
CONFUSION IS NEXT – Tormented
Song page: http://www.jamendo.com/en/track/82318
License: http://creativecommons.org/licenses/by-nc-nd/2.5/it/
Track 5
Samuel Thomas – Dance of the electric evil
Song page: http://www.jamendo.com/en/track/788107
License: http://creativecommons.org/licenses/by-nc-sa/2.0/fr/
Track 6
Fresh Body Shop – The Ugly Army
Song page: http://www.jamendo.com/en/track/364088
License: http://creativecommons.org/licenses/by-nc-nd/3.0/
Track 7
ENIGMA63 – A l'autre bout du monde
Song page: http://www.jamendo.com/en/track/789022
License: http://creativecommons.org/licenses/by-nc-sa/3.0/
Track 8
k78 – enter the black hole
Song page: http://www.jamendo.com/en/track/788931
License: http://creativecommons.org/licenses/by-nc-sa/3.0/
Track 9
Brad Sucks – Dropping out of School
Song page: http://www.jamendo.com/en/track/210907
License: http://creativecommons.org/licenses/by-sa/3.0/
Track 10
Daas Pierce – So Fine
Song page: http://www.jamendo.com/en/track/789546
License: http://creativecommons.org/licenses/by-nc-sa/3.0/
Track 11
Jonny Kinetic – SET ME FREE
Song page: http://www.jamendo.com/en/track/822363
License: http://creativecommons.org/licenses/by-sa/3.0/
Track 12
COSMO – vgdsfvgfsfvsfvsvfsd
Song page: http://www.jamendo.com/en/track/826905
License: http://creativecommons.org/licenses/by-nc-sa/3.0/
Track 13
aledjones_musics – News at 6
Song page: http://www.jamendo.com/en/track/700995
License: http://creativecommons.org/licenses/by-nc-sa/2.0/de/
Track 14
Samsara/Yidakivoices Dream Sound Theater – Route 53 to Africa
Song page: http://www.jamendo.com/en/track/536532
License: http://creativecommons.org/licenses/by-nd/3.0/
Track 15
Sleepwalker – Paranoid Pictures
Song page: http://www.jamendo.com/en/track/789530
License: http://creativecommons.org/licenses/by-nc-sa/2.0/de/
Track 16
Studebaker's Blacksmith Shop – Merry goes around
Song page: http://www.jamendo.com/en/track/604294
License: http://www.jamendo.com/en/album/69857
Track 17
hit the center – Catch It
Song page: http://www.jamendo.com/en/track/622282
License: http://creativecommons.org/licenses/by-sa/2.5/it/
Track 18
Sean Wright – The Deceiver
Song page: http://www.jamendo.com/en/track/207517
License: http://creativecommons.org/licenses/by/3.0/
Track 19
Robinson, Freitag And The Lonely Trumpet – Garden Tree
Song page: http://www.jamendo.com/en/track/20530
License: http://creativecommons.org/licenses/by-nc-sa/2.5/
Track 20
GKM – Mour
Song page: http://www.jamendo.com/en/track/788292
License: http://creativecommons.org/licenses/by-nc-sa/3.0/
===================================================
Trash Am #4 – Billiard Winter Drink
===================================================
Track 1
Limbo deluxe – Boo Ga loo
Song page: http://www.jamendo.com/en/track/104142
License: http://creativecommons.org/licenses/by-sa/3.0/
Track 2
Perro Ciego – Letras rojas
Song page: http://www.jamendo.com/en/track/580517
License: http://creativecommons.org/licenses/by-nc-sa/3.0/
Track 3
Monster Cyborg – Complicated Thing
Song page: http://www.jamendo.com/en/track/633282
License: http://creativecommons.org/licenses/by-nc-sa/3.0/
Track 4
Jim Mendoza – Telarañas de confusión
Song page: http://www.jamendo.com/en/track/788543
License: http://creativecommons.org/licenses/by-sa/3.0/
Track 5
Jaumesv – Superstar (feat.Kcentric)
Song page: http://www.jamendo.com/en/track/793916
License: http://creativecommons.org/licenses/by-sa/3.0/
Track 6
Phonophobia 70 – Cold
Song page: http://www.jamendo.com/en/track/37285
License: http://creativecommons.org/licenses/by-nc-sa/2.0/de/
Track 7
Shardik's Walkman – Exceeding Limits
Song page: http://www.jamendo.com/en/track/822661
License: http://creativecommons.org/licenses/by-sa/3.0/
Track 8
digitaldawn – Mario In Wonderland
Song page: http://www.jamendo.com/en/track/687755
License: http://creativecommons.org/licenses/by-nc-nd/3.0/
Track 9
George Dragon – Caribbean dinner
Song page: http://www.jamendo.com/en/track/492918
License: http://creativecommons.org/licenses/by-nc-sa/3.0/
Track 10
jackpearson.. – anna's tambourine
Song page: http://www.jamendo.com/en/track/575080
License: http://creativecommons.org/licenses/by-nc-sa/3.0/
Track 11
cyberdread – Hi-Fi African Drums – Trumpet Vers.
Song page: http://www.jamendo.com/en/track/174555
License: http://creativecommons.org/licenses/by-nc-sa/3.0/
Track 12
Staggered Crossing – Burgundy & Blue
Song page: http://www.jamendo.com/en/track/78800
License: http://creativecommons.org/licenses/by-nd/3.0/
Track 13
Nize Sanchez – Nize Sanchez  presenta – Amor de barrio
Song page: http://www.jamendo.com/en/track/727325
License: http://creativecommons.org/licenses/by/2.5/es/
Track 14
John Yorks – Return of Mr Nylon
Song page: http://www.jamendo.com/en/track/827244
License: http://creativecommons.org/licenses/by-nc-sa/3.0/
Track 15
Society's End – Elaine
Song page: http://www.jamendo.com/en/track/477701
License: http://creativecommons.org/licenses/by-nc-sa/3.0/
Track 16
Chewrafa – Chiptune 02 – Spacechip
Song page: http://www.jamendo.com/en/track/188749
License: http://creativecommons.org/licenses/by-nc-sa/2.5/es/
Track 17
Sula Ventrebianco – Cosa?!
Song page: http://www.jamendo.com/en/track/582960
License: http://creativecommons.org/licenses/by-nc-nd/3.0/
Track 18
Bod – It Began In Africa
Song page: http://www.jamendo.com/en/track/725848
License: http://creativecommons.org/licenses/by-sa/3.0/
Track 19
butumbaba – Hombre Amarillo
Song page: http://www.jamendo.com/en/track/458037
License: http://creativecommons.org/licenses/by-sa/2.5/ar/
Track 20
Marauders – Don't Take Your Love
Song page: http://www.jamendo.com/en/track/32033
License: http://creativecommons.org/licenses/by-nc-nd/2.5/
Track 21
@miral – Blackbirds Dream [December Mix] – ft. NISKI DŹWIĘK
Song page: http://www.jamendo.com/en/track/787189
License: http://creativecommons.org/licenses/by-nc-sa/2.0/de/
===