Podcast: Play in new window | Download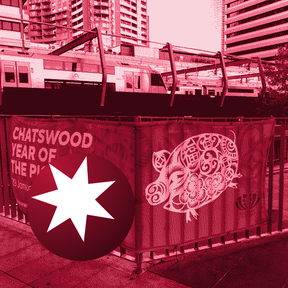 01:23:35 – A tribute to the last few episodes of The Overnightscape. Topics include wood veneer dishwashers and TVs, moving to Chatswood, when I started listening to The Overnightscape, Lunar New Year, abandoned cityscapes in the real world and in simulations, nostalgia for space, gift giving, Gateway 2000, gaming business models, Fate/Grand Order, and the Carlton Branch… plus Side B (at 01:03:56)… opening production credits for A Chinese Ghost Story (1987)[VCD], The Computer Chronicles – Windows 3.0 (1990)[Archive.org], Hypothetical Institute theme (2019)[Podcast], Clark and Dawe, The Front Fell Off (1991)[YouTube], Cantonese Golden Harvest bumper (1986)[VCD], Digital Flotsam episode 54, baseballs and music (2004)[Archive.org], tech5 episode 38 on early Microsoft magazines (2007)[Podcast], Prospects by Chris Juergensen (2005)[Archive.org, Creative Commons 2.5 Attribution], Rising Bubbles sound loop from Apple Logic (2007), introduction to construction of the Sydney Harbour Tunnel (1992)[YouTube], and my first MadPlayer recording (2005)[Archive.org].
Recorded in Sydney, Australia. Licence for this track: Creative Commons Attribution 3.0. Attribution: Ruben Schade.
Released February 2019 on Rubenerd and The Overnightscape Underground, an Internet talk radio channel focusing on a freeform monologue style, with diverse and fascinating hosts; this one notwithstanding.