Podcast: Play in new window | Download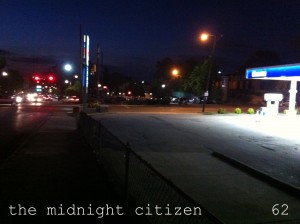 1:45:15 – Mike in the studio late at night. Topics include: searching for Boss Hogg's Cadillac; graduation; being a college DJ; phases of The Midnight Citizen; reverse nostalgia; field audio – a visit to the Bumper Nets arcade at the Riverchase Galleria; book review – "Ready Player One"; movie review – "Django Unchained" (2012); Germans; and much more!
All music for this episode is under a Creative Commons Share-Alike license. All music is available on Jamendo.com: Lead-in theme is "ch07-31Ko" by Mister Electric Demon; "Habitual Ritual" and "Nebulous Notions" by Revolution Void; "Solitude"; "9mm" and "Joie" by Logan; "Panta Rhei" and "It's too Bad" by Vulturius; "No-Trace Land" by XL Ant; "Sultan Soul" by Bayou Trio, and; "Dancing" by Jahzarr.
This work is licensed under a Creative Commons Attribution-NonCommercial-Share Alike 3.0 United States License. Attribution by Mike Boody.
Released May 2013, on The Overnightscape Underground (onsug.com) and The Midnight Citizen (midnightcitizen.com).