Podcast: Play in new window | Download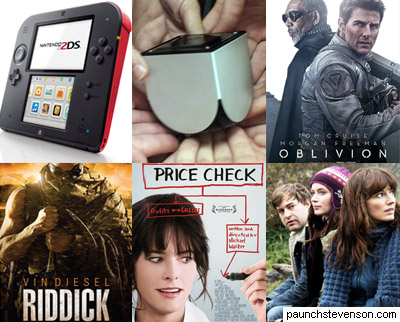 1:07:22 – In this episode:
Nintendo sends a cease & desist to AtariAge for Princess Rescue,
methods for physically producing home brew video games,
is Nintendo in dire straights?,
the Nintendo 2DS,
our review of the Ouya game console,
using Ouya to play arcade games via MAME,
good/bad of Netflix streaming,
lousy indie films,
Your Sister's Sister (2012), starring Mark Duplass and Emily Blunt,
Price Check (2012), starring Indie queen Parker Posey,
The Vicious Kind (2009), starring Adam Scott,
review of Oblivion (2013), starring Tom Cruise and Morgan Freeman,
Did Mr. Wizard debunk that sea level rises due to global warming? (video),
Dr. Kiki of This Week in Science explains that no he did NOT! (video),
review of Riddick (2013), starring Vin Diesel and Katee Sackhoff,
upcoming Robocop (2014) film, featuring Michael Keaton,
Ben Affleck hired as Batman for the foreseeable future,
celebrity death (boxer Tommy Morrison),
and a corny news report on Nintendo from the early 90′s.
License: Creative Commons Attribution-NonCommercial-NoDerivs 3.0 Unported License (creativecommons.org/licenses/by-nc-nd/3.0/). Attribution: by Rob and Greg – more info at paunchstevenson.com
Released September 2013 on The Overnightscape Underground (onsug.com), an Internet talk radio channel focusing on a freeform monologue style, with diverse and fascinating hosts.