Podcast: Play in new window | Download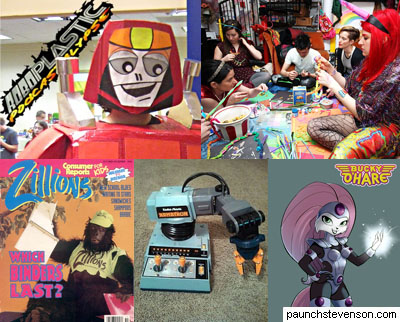 2:00:34 –
In this episode it's our long time friend, listener and podcaster Esteban aka Steve of the Roboplastic Podcastalypse live in studio!!!!!
The Big Event in Flushing, NY,
"American Dream" Dusty Rhodes,
"The Nature Boy" Ric Flair,
Monster Mania,
Tobin Bell, Dina Meyer, Judge Reinhold, Lin Shaye, Claudia Wells, Robert Patrick, and Christopher McDonald,
Dushku Fan of the Year,
Cinemax Banshee,
Esteban's NY-NJ subway, smells, experiences,
Spanish-dub of Transformers (video),
The Go-Bots Scooter in "Last Magic Man",
dumb names for Go-Bots and He-Man characters,
Penny Power and Zillions kids magazines,
the Armatron Claw,
Bucky O'Hare comics,
a cringe-worthy Larry Hama interview discussing "Pirate Jenny",
celebrity deaths (James Best, Richard Dysart, Geoffrey Lewis, Stan Freberg),
Richard Dreyfus sues Disney over What About Bob? Royalties,
Robotech debacle,
young people haven't heard of jumping the shark,
preschool mastermind,
why is Esteban also called Steve?,
Nintendo warehouse employee "Robin Graves" complains to Kotaku about not having a better position,
Times Square Toys 'R' Us,
shopping for toiletries in the middle of the night,
and would Bob Budiansky remember any of us?
License: Creative Commons Attribution-NonCommercial-NoDerivs 3.0 Unported License (creativecommons.org/licenses/by-nc-nd/3.0/). Attribution: by Rob and Greg – more info at paunchstevenson.com
Released April 2015 on The Overnightscape Underground (onsug.com), an Internet talk radio channel focusing on a freeform monologue style, with diverse and fascinating hosts.