Podcast: Play in new window | Download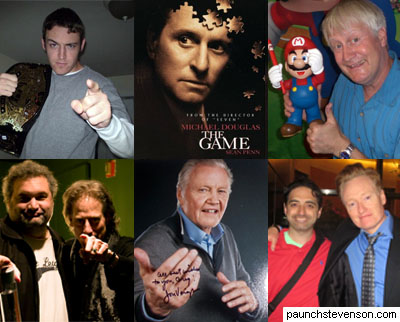 2:00:38Â -Â In this episode:
defunct Plaza Game Room on Route 46 in Little Falls, NJ,
Mad Max films,
retirement of David Letterman,
Harry Shearer is quitting The Simpsons,
comedian Dan Soder's Macho Man impression,
Kurt Cobain documentary, Montage of Heck (2015),
bad Michael Douglas movies,
meeting the Pawn Stars and American Pickers in Manhattan,
Montclair Film Festival featuring Richard Gere, Stephen Colbert, Patrick Wilson, Dane DeHaan, Michael Ian Black, Bobcat Goldthwait & Kat Von D,
going crazy to obtain New York Comic-Con tickets,
Wizard World Philadephia featuring Burt Reynolds, Cary Elwes, Sting, Adrian Paul, Summer Glau, Charles Martinet, and Hayley Atwell,
non-stop celeb hunting at NY Upfront/TV week,
meeting Mark-Paul Gosselaar, Robert Kazinsky, Fred Savage, Jamie Lee Curtis, John Travolta, Neil deGrasse Tyson, Craig T. Nelson, Ray Liotta, Dylan Walsh, Jerry Rice, Jane Lynch, Jeff Garlin, and Conan O'Brien,
meeting Richard Lewis and Artie Lange at a book signing,
finally meeting Bill Nighy and Jason "Rafi" Mantzoukas,
autographs through the mail from Jon Voight and Gary Busey,
Rob attends a major league baseball game,
and who follows Paunch twitter?
License: Creative Commons Attribution-NonCommercial-NoDerivs 3.0 Unported License (creativecommons.org/licenses/by-nc-nd/3.0/). Attribution: by Rob and Greg – more info at paunchstevenson.com
Released June 2015 on The Overnightscape Underground (onsug.com), an Internet talk radio channel focusing on a freeform monologue style, with diverse and fascinating hosts.