Podcast: Play in new window | Download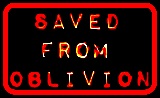 (32:10) Saved From Oblivion was created to easily let you hear the best (and at times, the strangest) from radio's "golden age". The radio show, Suspense, was among radio's longest-lasting and brightest programs. There are almost 1000 episodes to choose from and probably 80% of them are what I would call "high quality".
This episode, "To Find Help", is from 1949 and was a remake of an earlier version that was done in 1945. This later version is superior to the other, in my opinion, and this is why I have chosen to let you hear this one.
Starring the great stage and film actress, Ethel Barrymore and Hollywood's second-favorite male dancer, Gene Kelly, these two team up as an unlikely pair in what truly is a spooky psychological thriller (common after World War II both on film and radio).
License for this track: Creative Commons Attribution-NonCommercial-NoDerivs 3.0 Unported License (creativecommons.org/licenses/by-nc-nd/3.0/). Attribution: by Jimbo – more info at TheOvernightscape.com