Podcast: Play in new window | Download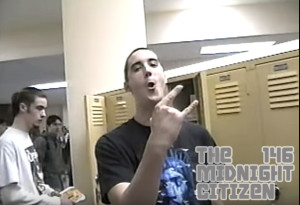 1:37:18 –Â Join Mike in the studio at night, where he remembers the ADHD's, a group of students back in high school who were too hyperactive and aggressive to mesh with the general population, and the time when one of them, Giffin, went too far with a can of pepper spray. Also: how a wedding can be like a late episode of "Happy Days"; the actor who played "Raj" on "WHAT'S HAPPENING?" commented on one of my recent episodes, reviews of Bobcat Goldthwait movie "Call Me Lucky" (2015) and TV show "Fargo".
Music for this episode is from the New Midnight Cassette System by Frank Edward Nora (Creative Commons License 1.0 Universal). This work is licensed under a Creative Commons Attribution Non-commercial Share Alike License. Attribution by Mike Boody. Released November 2015 on The Midnight Citizen and The Overnightscape Underground.