Podcast: Play in new window | Download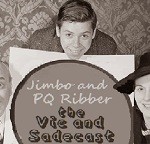 (1:10:42) Jimbo and PQ Ribber return as promised and deliver four more thought-provoking (and great-sounding) episodes from "Vic and Sade" to you, complete with their own insights, declarations and exaltations!
Included are two *gems* from 1942 that you won't want to miss, even if you are just a casual fan.
c o n t e n t s
UNCLE FLETCHER'S TRAIN TRIP TO DIXON (1941) .. MR. CHINBUNNY EATS ICE CREAM (1942) .. THUNDERSTORMS (1942) .. WASHRAG COLLECTION (1942)
License for this track: Creative Commons Attribution-NonCommercial-NoDerivs 3.0 Unported License (creativecommons.org/licenses/by-nc-nd/3.0/). Attribution: by Jimbo and PQ Ribber – more info at TheOvernightscape.com

"Vic and Sade" was created and written by Paul Rhymer. For all your "Vic and Sade" needs, see The Crazy World of Vic and Sade.