Podcast: Play in new window | Download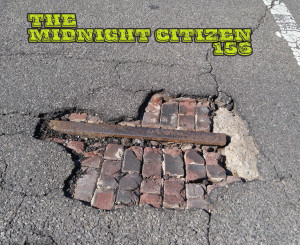 1:19:52 –Â Join Mike in the studio on a Saturday night. Topics include: finding some old streetcar rail inside a pothole in the street; Birmingham's underground river myth and where the term "To Like like a Mulhatton" comes from; the world is on loan to us; the time my childhood friend Benji and I dug a whole to China but found Hell first; B-Movie review of "Hawkeye" (1988); politics and Donald Trump; Quiz Show scandals of the 1950s; short story reading of "Suitable Distance" by Adam Fox, and; much more!
Music for this episode from the New Midnight Cassette System by Frank Edward Nora (Creative Commons License 1.0 Universal). This work is licensed under a Creative Commons License Non-commercial Share-Alike License. Attribution by Mike Boody. Released January 2015 on The Midnight Citizen and The Overnightscape Underground.