Podcast: Play in new window | Download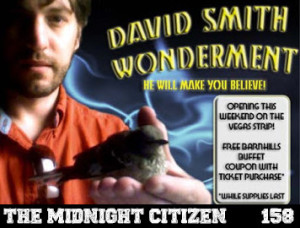 58:21 –Â Join Mike outside on a Saturday night with Dave Smith, local musician and porch philosopher. A word association game is played and leads to some cool tangents, including: telephones in the 1970s; women in the 1970s, 80s, and 90s; fear of fighting people; shopping malls — realities vs. perceptions in movies, and; much more!
Cover art by Alex Justinger. Lead music is "Blue Ribbon" by Dave Smith, used with permission of owner. This work is licensed under a Creative Commons License Non-commercial Share-Alike License. Attribution by Mike Boody. Released March 2016 on The Midnight Citizen and The Overnightscape Underground.