Podcast: Play in new window | Download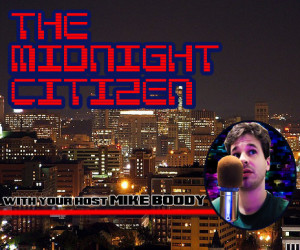 53:52 –Â Join Mike in the studio on a Saturday night.
Download on iTunes and Podbean.
Subscribe to The Midnight Citizen and get an exclusive short film!
Detailed show notes: the evolution of "Dear John" letters; how to keep a Frog alive; Auntie Litter; my ex-roommate Hunter's video editing work he did for Auntie Litter show up on the Comedy Central show "@Midnight" this week; "Dear John" TV show; technical problems bring yet another show to an early end.
Music for tonight's episode: "Something" by Kai Engel; "Call for Surrender", "Dance Rocket", "Descent of the Goober Monster" by Jesse Spillane; "City in Ruins" by Mescares; "These Fair Hands", "True Hearts" by Nick Jaina. All music is Creative Commons License: Attribution, Share-Alike.
This work is licensed under a Creative Commons Attribution Non-commercial Share-Alike US License. Attribution by Mike Boody. Released September 2016 on The Midnight Citizen and The Overnightscape Underground.