Podcast: Play in new window | Download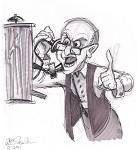 (53:04) Jimbo simply can't hide his enthusiasm about "Vic and Sade"; jump on, have a listen and fall in love with the greatest radio show there ever was. Please listen to Part 1 and Part 2 as well!
Vic really was sick when he was forced to see the double feature in Hopewood .. problems with the Scotts .. differences between Rush and Russell .. e-mailing Jimbo/an e-mail to me reminds me that Vic did gift Rush at times .. something weird about Doctor Keevey .. a gross of gravels! .. immersing yourself in the crazy world/Rhymer held the puppet strings .. no "good" interview with Rhymer about "Vic and Sade" .. Uncle Fletcher, the 'handful' .. what does Y.I.I.Y. stand for?
"Vic and Sade" was created and written by Paul Rhymer. For all your "Vic and Sade" needs, visit The Crazy World of Vic and Sade.
License for this track: Creative Commons Attribution-Noncommercial-No Derivative Works 3.0 United States (http://creativecommons.org/licenses/by-nc-nd/3.0/us/). Attribution: by Jimbo – more info at onsug.com
Eric Scales has generously allowed me to use his graphics (such as the show art for this episode.)
---
Chad – get better soon. The nieces and nephews need you — and there's nothing worse than a broken uncle. ♿