Podcast: Play in new window | Download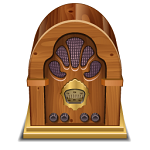 (35:28) In 2010-11, not knowing what I was doing and having the world's worst microphone, I haphazardly began recording a series of short podcasts about various aspects of old-time radio. Even to this day, this is not really done anywhere and it's my belief that someone could have a really popular show (maybe even with sponsors) if they knew what they were doing and would dedicate a few hours a week to such an endeavor. I didn't play OTR shows back then, I would simply state my opinions about various aspects of OTR. At the time, it was the most popular thing I did online BY FAR – and I did it with absolutely ZERO funds. I remember trying hard to obtain a microphone, but to no avail (I was homeless, then). It wasn't too long after I began this that I found "Vic and Sade" — which literally changed my life (seriously)!
Anyway, none of the audio here sounds great. I had in mind a 10 minute daily show. Somehow, I ran out of steam early on, despite the fact that I had plenty of faithful listeners and followers right off the bat (plus, I was plugged into a community that was — and still is — eager for this sort of thing).
I just talked about whatever I wanted to talk about in the world of old-time radio. Here are a sample of a few of my shows:

CONTENTS:
I Hate 'Herman the Duck' (Burns and Allen) .. I Don't Like Mary Livingstone (The Jack Benny Program) .. Gale Gordon (various shows) .. John Gibson (various programs) .. Elliot Lewis (the very funny "Delivery Guy" character, Burns and Allen)
This work is licensed under a Creative Commons Attribution-NonCommercial-NoDerivs 3.0 United States License.