Podcast: Play in new window | Download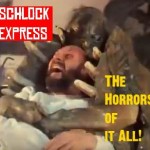 (33:42) The Schlock Express is back on the rails and heading back into the seventies to explore the evolution of British horror movies. From the prehistoric terrors to be found of the 'Horror Express', through the freak shows and experiments of 'The Mutations' to the brain eating, electric drill brandishing cannibal grannies of 'Frightmare', we take a journey from English Gothic horror traditions, through sex, nudity and Soho to urban gore and the proto slasher movie. It's all here: Telly Savalas chewing up the scenery, Tom Baker as you've never seen him before and little old ladies' cracking open skulls to get at the brainy goodness within! So jump aboard the Schlock Express now!
(c) Sleaze Multimedia Productions Produced by Doc Sleaze, 2017.
License for this track: Creative Commons Attribution-NonCommercial-NoDerivs 3.0 Unported License (creativecommons.org/licenses/by-nc-nd/3.0/). Attribution: by Doc Sleaze – more info at TheOvernightscape.com