Podcast: Play in new window | Download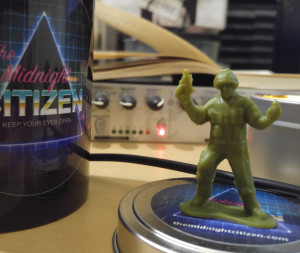 49:43 –Â Join Mike in the studio late at night, where he attempts to melt a toy soldier under the moonlight. Also, some BIG NEWS is announced!
Download on iTunes and Podbean. Subscribe to The Midnight Citizen and get an exclusive short film…
Show Notes: Is there anything new under the moon?; melting a toy soldier under the moonlight; when Keurigs break down, and other flaws of future technology; "Back to the Future, Part II"; can anything new be accomplished?; tales from human resources; the story of "Weird-o Ed" at the Galleria, and how he lost me a job at Lens Crafters; Music Break*; is the Midnight Citizen coming to an end, and how far will I go to get people to listen to an ENTIRE show?
*Music Break: "Don't Sweetheart Me" by Big Sandy and his Fly-Rite boys.
Backing music for tonight's episode is the Midnight Cassette System (CCO 1.0 Universal, attribution, non-commercial, share-alike).
This work is licensed under a Creative Commons Attribution Non-commercial Share-Alike US License. Attribution by Mike Boody. Released May 2017 on The Midnight Citizen and The Overnightscape Underground.