Podcast: Play in new window | Download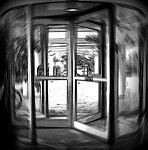 (20:19) Dave from Wisconsin is here and warns about the perils of revolving doors crushing brick mush men. An extremely fun episode that even non-fans of "Vic and Sade" won't want to miss.
Examine this episode more closely: 40-11-19 Brick Mush Man Caught in Revolving Door
"Vic and Sade" was written by Paul Rhymer.
This work is licensed under a Creative Commons Attribution-NonCommercial-NoDerivs 3.0 United States License.