Podcast: Play in new window | Download
1:00:40 –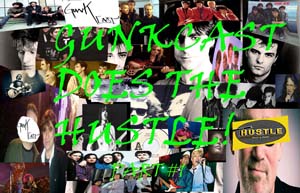 So 2017 seems to be the year of podcast meetups for Gunkcast! After a bit of a hiatus (we'll just call it an extended summer break), we are back with another BIG show! This time we have a special guest co-host in the studio to talk with us on the subject of all things music! His name is Jon Lamoreaux and he does a very cool podcast called The Hustle for which he seeks out musicians & bands who once had their moment of fame (a big note to those one-hit wonders of the mid-70's through early 90's). Many of the artists he has had on his show are pretty big names who you definitely will know, as well as some who have flown slightly under the commercial radar of success. So we had a very interesting discussion with Jon on how he approaches his show and he shares many fascinating stories regarding the artists he has interviewed. We also discuss many of the bands & artists we have a common passion for (& we may just offer up some suggestions for Jon for who we think he needs to get on his show)!
Although we were admittedly very tempted to include bits of all the great music we talked about in this episode, we have decided to honor copyrights & do the Onsug-friendly version here. So here are just a few links regarding some of the bands/artists we discuss in this Part #1Â episode: The Chameleons (https://youtu.be/nGssYCWIV74 &Â https://youtu.be/4sL-wu5oa1w), Russ Ballard (https://youtu.be/FNrbrhQknLQ), The Mighty Lemon Drops (https://youtu.be/E5mltgsGEas), The A's (https://youtu.be/rdIkDWNWVlA), Real Life (https://youtu.be/jCHE0Tjw6MA), The Flowerpot Men (https://youtu.be/7kj5K3BxA6s), Robert Tepper (https://youtu.be/MwPb7g_BlXQ), Tim Capello (https://youtu.be/PdaaGlyu7EQ), Steven Wilson (https://youtu.be/ENfI942SJTY), Guided By Voices (https://youtu.be/-fm83rY2aWc), & Longwave (https://youtu.be/CLEZ8tyfA9A). These are besides the many more popular artists we also discussed. So enjoy the 1st part of quite the fascinating music discussion we had… we will be back with the 2nd part very soon!
Also to note, we may be debuting a track off the upcoming (and long promised) e.p. from the band! So you may want to stick around for that here too! Cheers!
Also, please share the love and listen to some of our favorite podcasts at: The Hustle, Onsug, Static Radio, Insignificast, The Not New Review, and Rock Solid!
License for this track: Creative Commons Attribution-NonCommercial-NoDerivs 3.0 Unported License (creativecommons.org/licenses/by-nc-nd/3.0/). Attribution: by Smidge Kurdlebaum – more info at onsug.com or trashcanrock.com.
Released October 2017 on The Overnightscape Underground (onsug.com), an Internet talk radio channel focusing on a freeform monologue style, with diverse and fascinating hosts.