Podcast: Play in new window | Download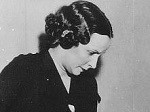 (25:55) One minute and twenty one seconds turns into a lifetime! Because Ruthie quit the Thimble Club!
Examine this episode more closely: 41-01-24 Mr. Ruebush Has to Wait
"Vic and Sade" was written by Paul Rhymer.
This work is licensed under a Creative Commons Attribution-NonCommercial-NoDerivs 3.0 United States License.