Podcast: Play in new window | Download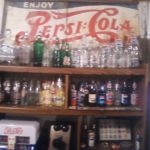 39:19 – Fun with audio experimentation! Impacted Wisdom Tooth is the fictitious artist name I use when releasing my sound collages here on Onsug.
Use of headphones is highly recommended for the full effect.
Originally released on archive.org on 6/29/11, compiled from an array of sound sources too numerous to mention (or even remember). This sound collage was created using source material from bygone days, some just a few years back, some nearly as far back as a hundred years. Listen to history merge, bounce off itself, overlap, expand, contract.
The original release of Pop Rocks and Betamax was divided into four separate tracks:
01 Pop Rocks and Betamax (from 0:00)
02 Buy Something (from 10:15)
03 Housepet Hootenany (from 15:59)
04 Attic Treasures (from 20:42)
License for this track: Creative Commons Attribution-NonCommercial-NoDerivs 3.0 Unported License (creativecommons.org/licenses/by-nc-nd/3.0/). Attribution: by Shambles Constant, Falling Cow Productions – more info at onsug.com
Released February 2018 on The Overnightscape Underground (onsug.com), an Internet talk radio channel focusing on a freeform monologue style, with diverse and fascinating hosts.