Podcast: Play in new window | Download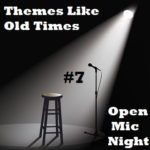 30:01Â – In which Old Time Radio actor/announcers Larry Thor and Ernest Chappell do their respective things at the corner bar where Dave in Kentucky is the emcee. Dave performs their theme songs (Rodgers and Hart's "Manhattan" from Thor's "Broadway's My Beat" and the slow movement from Cesar Franck's Symphony in D-minor from Chappell's "Quiet, Please") and vocalizes his own song parody "I'll Take Kentucky". Thrill to the high-flying beat poetry of Larry Thor, and discover the "energy drink" that inspires it! Marvel at the encyclopedic knowledge of Ernest Chappell, the Man Who Knows Everything! Salivate at the evocative descriptions of Del Monte Foods and Campbell's Soups! Please don't reveal the Shock Ending: Proof that open-mic audiences are truly a Crowd Without Pity!
This show is licensed under a Creative Commons Attribution-NonCommercial-NoDerivs 3.0 Unported License. Attribution: by Dave in Kentucky – more info at onsug.com.
Released June 2019 on The Overnightscape Underground (onsug.com), an Internet talk radio channel.