Podcast: Play in new window | Download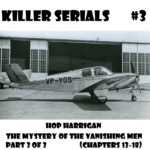 1:41:58 – The action really picks up speed as this juvenile aviation serial finally gets off the ground! Be in on the denouement as Hop brings in the suspects for a final showdown, and find out if you too were smarter than a fifth grader! Does the plot hang together, or do all the show's writers need to hang separately?
This show is licensed under a Creative Commons Attribution-NonCommercial-NoDerivs 3.0 Unported License. Attribution: by Dave in Kentucky – more info at onsug.com.
Show art: Beechcraft Bonanza Model 35, circa 1947.