Podcast: Play in new window | Download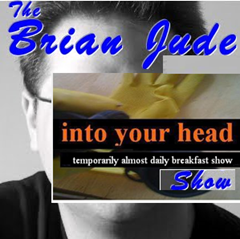 Into Your Head 301: Thursday's breakfast Show – guest hosted by BRIAN JUDE! (6/3/10) 29.23 (13:41 / 15.8 MB)
The Overnightscape Underground (onsug.com) – June 2010 – Track 23
——————————
The original version of this episode cut off suddenly at the end. It was assumed by NEAL to be a deliberate and excellent joke, but the truth is even better.  It was not the end. Not BRIAN's fault – An Internet problem at the Irish end appears to have conspired.
Here now is the full version of Thursday's Into Your Head Temporarily Almost Daily Breakfast Show, Guest hosted and produced by  BRIAN JUDE.
Some of you know BRIAN from his works, including THE BRIAN JUDE SHOW at BRIANJUDESHOW.blogspot.com and the eponymous @BRIANJUDE Twitter feed
BRIAN JUDE also acts, teaches, writes screens, makes movies, directs plays, is a bandmember who plays instruments properly, and was the first man ever to podcast from space. It is widely believe that he does not know how to sleep.
BRIAN JUDE is standing in for NEAL today after volunteering to do Thursday's IYH at very short notice. Thanks BRIAN.
——————————
License for this track: Creative Commons Attribution-Noncommercial-No Derivative Works 3.0 United States (http://creativecommons.org/licenses/by-nc-nd/3.0/us/). Attribution: by Brian Jude & Neal from Ireland – more info at IntoYourHead.com
——————————
The Overnightscape Underground is an Internet talk radio channel, focusing on a freeform monologue style, with diverse and fascinating hosts. Created by Frank Nora (frank@theovernightscape.com) in New Jersey, USA.