Podcast: Play in new window | Download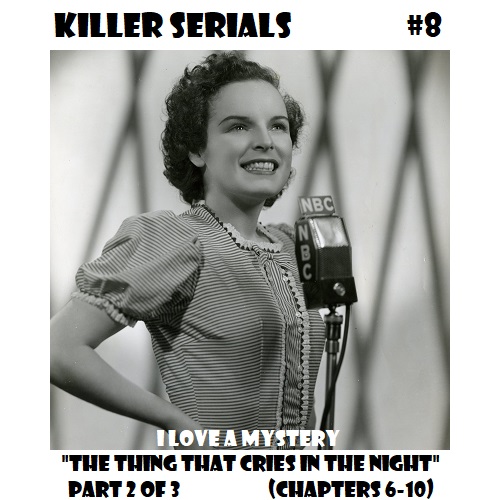 1:23:36 – Dave in Kentucky with the middle five chapters of the I Love a Mystery adventure The Thing that Cries in the Night, plus a Hop Harrigan update, "Chairy" on Jeopardy, the Barnums, what Carlton E. Morse sounded like, narration in the dialogue, Hollywood then and now, voicing the demon, a Bob Marley song parody, red herrings, silencers or suppressors, fair play in the detective story, last-minute rewrites, Walter Paterson, Michael Raffetto, Barton Yarborough, Dragnet, One Man's Family, writing characters out of shows, partial and total nudity in the theater of the mind, and Undergarments Which Must Not Be Named.
This show is licensed under a Creative Commons Attribution-NonCommercial-NoDerivs 3.0 Unported License. Attribution: by Dave in Kentucky – more info at onsug.com.
Show art: Mercedes McCambridge, NBC Radio promotional photo, date unknown.