Podcast: Play in new window | Download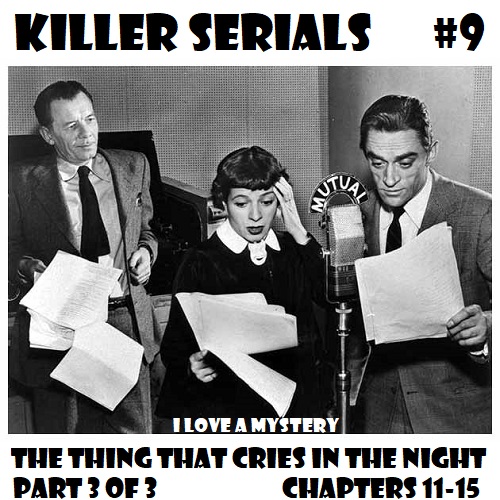 1:19:12 – Dave in Kentucky with the final five chapters of the I Love a Mystery adventure The Thing that Cries in the Night, plus Athena Lorde, Jerry Booker, Gloria Blondell, Joan Blondell, Albert "Cubby" Broccoli, Cafe Trocadero, Ted Healy, the Three Stooges, Ellery Queen, Jim Hutton, breaking the fourth wall, fair play in the detective story, Shakespeare, soliloquies, Greek & Shakespearean tragedy, tragic flaws, Mercedes McCambridge, All the King's Men, The Exorcist, CBS Radio Mystery Theater, John Markle, Salomon Brothers, Stephens Inc., Jack and Witt Stephens, Betsy Palmer, I've Got a Secret, Mrs. Voorhees, Friday the 13th, Nightmare on Elm Street, Harry Leopold, Emil Albrecht, Fake News from the United Press, and a few other odds and ends.
This show is licensed under a Creative Commons Attribution-NonCommercial-NoDerivs 3.0 Unported License. Attribution: by Dave in Kentucky – more info at onsug.com.
Show art: Russell Thorson (Jack) stands by while Athena Lorde and Jim Boles (Doc) act out a scene, circa 1951.